Nissan Energy Perks by EVgo gives Leaf buyers charge credits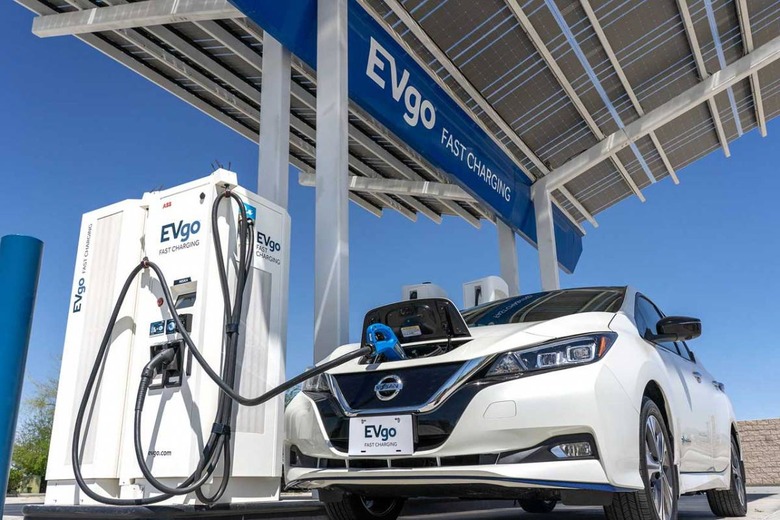 Nissan and EVgo announced today that they have teamed up for Nissan Energy Perks by EVgo. The Energy Perks feature gives those who purchase or lease a Nissan Leaf car access to the EVgo U.S. charging network. Nissan says that the Energy Perks deal was meant to provide car shoppers another reason to make a move to an EV.Nissan is providing $250 of pre-paid charging credits with EVgo, which operates the largest EV fast-charge network in the nation. The credits are given to qualifying customers who lease or purchase the Leaf or Leaf Plus in participating markets on or after November 1, 2019.
The credits can be used at one of more than 750 public charge station locations, with more than 1,200 fast chargers available. There are other networks available via a roaming agreement that gives access to a total of 30,000 public EV chargers.
Roaming access includes access to the ChargePoint network that gives seamless access to more than 28,000 Level 2 chargers and more than 300 fast chargers with a CHAdeMO connector for 100kw charging. EVgo has also announced roaming agreements with Electrify America and EV connect. Nissan has installed more than 2,000 quick chargers across the country since 2010.
Nissan notes that more than 100 million Americans currently live within a 15-minute drive of an EVgo fast charger. Nissan has a partnership along the I-95 corridor on the East Coast along the DRIVEtheARC corridor in California from Monterey to Lake Tahoe. One thing that is unclear about the charge credits is exactly how much it costs to charge from the network. Without an idea of what the cost is per charge, we aren't sure how long $250 worth of charge credits lasts.