Nissan And EVgo Charging Network To Gain 200 Fast Chargers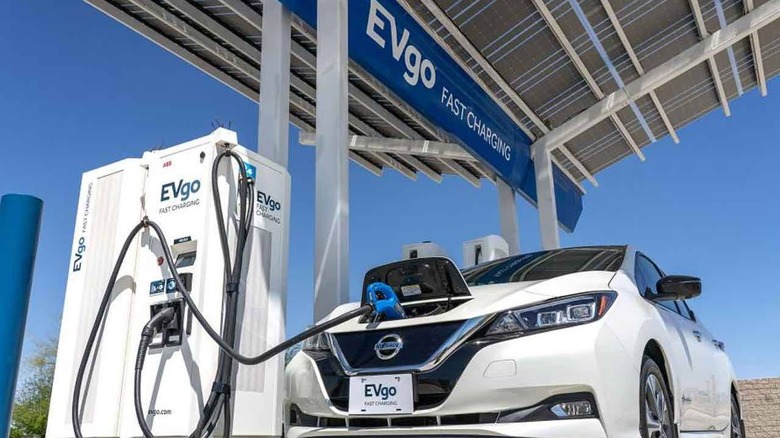 Nissan and EVgo have announced that they are expanding the charging network for EV drivers with 200 new direct current fast chargers (DCFC) that will be placed across the US. Each of the new fast chargers will be able to deliver 100kW of charging power. Stations also have both CHAdeMO and CCS connectors so more EV drivers will be able to charge using the system.
Nissan and EVgo note that the rollout of the expanded charging station network will be a multi-year construction project for the company. The project will result in the largest EV fast-charging network in the country. The joint investment by Nissan and EVgo expands on a 6-year partnership between the two firms.
Nissan and EVgo have installed more than 2,000 quick charge connectors across the country since 2010. The charging network that is already in place means more than 100 million Americans are living within a 15-minute drive of an EVgo fast charger, including those that were built in partnership with Nissan.
The chargers built by EVgo in partnership with Nissan are along the I-95 corridor on the East Coast, and the DRIVEtheARC corridor in California from Monterey to Lake Tahoe. EVgo says that it is "thrilled" to expand its six-year partnership with Nissan to provide more chargers to EV drivers. The chargers that are in place and will be installed are for Nissan LEAF drivers and will work with other brands of EVs as well.
Part of the deal will see Nissan and EVgo join forces to co-market the charging network. The goal is to help inform and raise awareness among EV drivers in the US about the advantages of an EV. The marketing campaign will feature the LEAF Plus with a driving range of up to 226 miles and fast charging capability.