Nintendo's Miitomo Unbelievably Hits 1 Million In 3 Days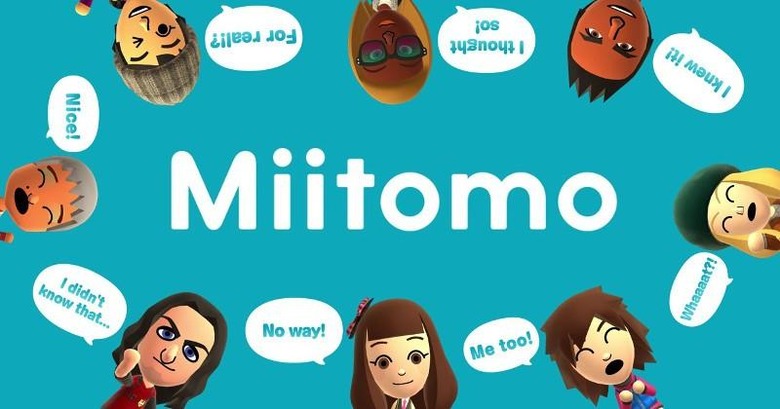 It will unlikely be ranked among Nintendo's top grossing games, especially since it's available for free, but Miitomo might have just landed a place in the gaming company's hall of fame. Not only is it Nintendo's first mobile game, if you could really call it that, it also managed to grab 1 million registered users in the first three days since it launched. Considering that's just in Japan, that is an impressive number which could bode well for its future and give pundits and naysayers food for thought.
This success is, honestly, somewhat surprising considering what Miitomo is. Sure, it has some of Nintendo's hallmarks, like the Miis and family-friendly entertainment. It is, however, not what you'd expect Nintendo to put out as its first game for smartphones. Given the company's financial strains, you'd expect it to launch with a bang, with Mario or Zelda or Pokemon. Then again, very early on Nintendo has already hinted that it won't simply be dumping its established IPs (meaning, characters and titles) on mobile.
Still, Miitomo was totally unexpected. Some might not even qualify it as a game per se. Technically, it would fall under a social mobile app, where all that you really do is communicate with other users. It's like Second Life (for those who remember it) meets Facebook meets Miis. Or an online Tomodachi Life for those familiar with the Nintendo DS and 3DS title. You create your Mii persona and have it post stuff (usually answers to questions that the app asks you) and your friends, through their own Miis, will react to those.
For a game that's not a game, 1 million registered users is definitely no small matter. Then again, that is in Japan, where Nintendo does have more sway than its competitors. It might also reflect a different gaming culture. Whether that success will be mirrored in other markets remains to be seen. Nintendo hasn't yet revealed the exact date of Miitomo's international launch but it has listed which countries are fated to get it, including the United States, Canada, the United Kingdom, Ireland, France, Belgium, Germany, Austria, Luxembourg, Spain, Italy, Netherlands, Russia, Australia, and New Zealand.
Miitomo is free to play, available on iOS and Android, but in-app purchases for clothing and accessories abound.
SOURCE: @Miitomo