Nintendo Switch weekly eShop update: Mega Man invasion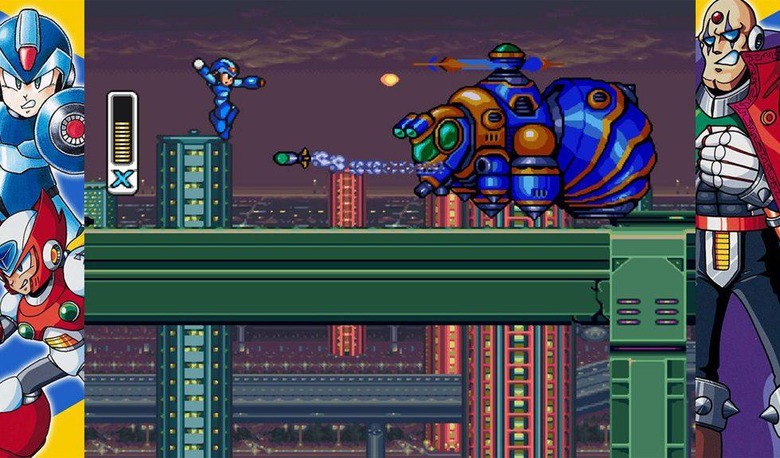 It's that time again: Nintendo has detailed another update for the Switch eShop, and this is going to be an exciting one for you Mega Man fans out there. The headliners this week are the two Mega Man X Legacy Collections, which serve as the follow ups to Capcom's successful compilations focusing on the mainline Mega Man series. If you have a soft spot for the blue bomber, you'll want to check them out.
There are two collections in total to buy if you want to have the entire Mega Man X series on Switch. The first Mega Man X Legacy Collection includes Mega Man X through Mega Man X4, while the second collection serves up the later four games in the series ending with Mega Man X8. The collections feature a new X Challenge mode that tasks players with defeating two bosses at once, which will likely be a challenge even for the seasoned Mega Man veterans.
Other than those two, there isn't a whole lot happening this week. Switch owners will get the chance to check out Bomb Chicken, which was announced as a console exclusive for the platform earlier in the year, while 3DS owners will be treated to a demo of WarioWare Gold. Have a look at the full list of releases for the week ahead:
Nintendo Switch

ACA NEOGEO LEAGUE BOWLING

Animal Rivals: Nintendo Switch Edition

Arcade Archives City CONNECTION

Beat Rush

Bomb Chicken

Chicken Assassin: Reloaded

Frost

Galak-Z: Variant S

Ghost 1.0

Guts & Glory

Heroki

Hungry Shark World

Lost Phones Stories

Mega Man X Legacy Collection (available July 24)

Mega Man X Legacy Collection 2 (available July 24)

NoReload Heroes

Pool Panic

Sausage Sports Club

Semblance (available July 24)

Spheroids (available July 20)

STARSHIP AVENGER Operation: Take Back Earth

Tanzia

Vozel Shot for Nintendo Switch

VSR: Void Space Racing (available July 20)

Werewolf Pinball (available July 20)

Nintendo 3DS

WarioWare Gold – Demo Version
We're coming off what was a pretty big week for the Nintendo Switch, as last week saw the launch of both Octopath Traveler and Captain Toad: Treasure Tracker. Are you planning on picking up either of the Mega Man X collections? Head down to the comments section and let us know!