Nintendo Switch now works with 8Bitdo controllers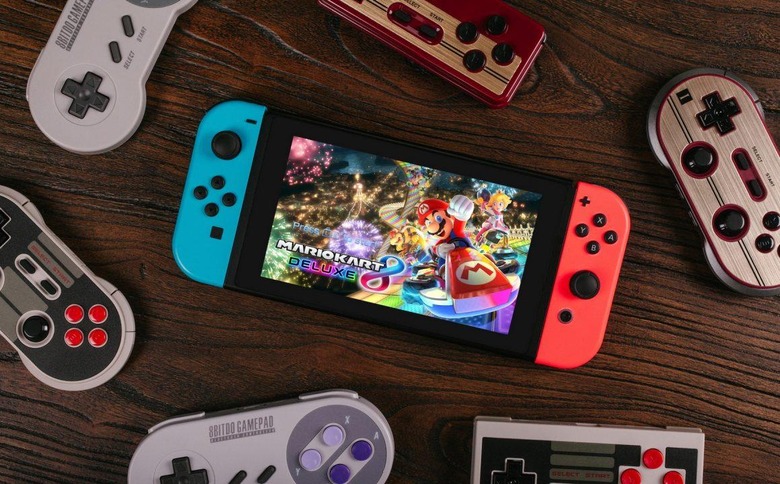 8Bitdo announced today that most of its popular wireless controllers are now compatible with the Nintendo Switch. This new functionality is coming by way of a firmware update to version 4.0. Even better is the fact that since the Switch already supports wireless controllers, you don't need pair these with a wireless receiver in order to get them to work.
While it's true that the Joy-Con controllers and the Switch Pro Controller turned out to be excellent pieces of gaming hardware, they also happen to be pretty expensive. If you need a second controller for your Switch, you're looking at $80 for a new pair of Joy-Cons and $70 for a Pro Controller. That isn't exactly a manageable price for a lot of people.
8Bitdo's controllers, on the other hand, demand a much lower price. You can generally find 8Bitdo controllers on Amazon for around $35, meaning you can pick up two for the same price as a single Pro Controller. It seems like 8Bitdo controllers would be a good solution if you need to grab multiple controllers for some Mario Kart 8 Deluxe sessions.
In any case, it sounds like downloading firmware update 4.0 is pretty straightforward. All you need to do is navigate to 8Bitdo's support page, find your controller, and download the firmware from there. After that, you'll be ready to use your controller with your Switch.
Unfortunately, not all of 8Bitdo's controllers are being updated to firmware 4.0. Most of them are, but the 8Bitdo N64 controller is stuck on firmware 2.0 as a legacy device. Still, we're sure you'll be able to find one you like using among 8Bitdo's NES and SNES-themed controllers. To find the right firmware for your controller, check out the source link below.
SOURCE: 8bitdo