Nintendo Switch is getting a compilation of classic SNK games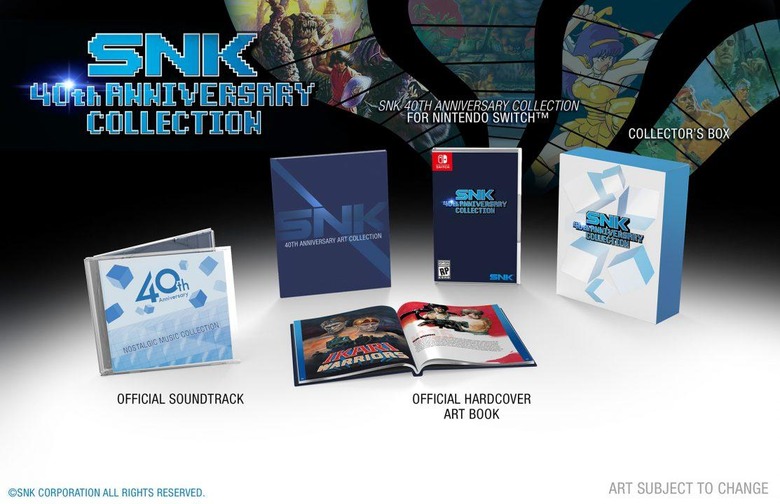 While most people seem to have a lot of great things to say about the Nintendo Switch, there's still one lingering problem with the system: no Virtual Console support. Though the Virtual Console has been a major component of Nintendo systems since the original Wii, Nintendo hasn't announced any plans to create one for the Switch. Instead of waiting on official word from Nintendo one way or another, NIS America has revealed that it will bring classic SNK games to the Switch by way of a new compilation.
Earlier today, NIS America announced the SNK 40th Anniversary Collection for Nintendo's portable console. While a number of classic Neo Geo games have already been released on the eShop under ACA branding, this compilation will bundle together a number of titles that have yet to be re-released. Even better is the fact that players will have access to the arcade and home versions of a number of titles in this compilation. Have a look at the full games list as it was revealed today:
Alpha Mission (arcade and console)

Athena (arcade and console)

Crystalis

Ikari Warriors (arcade and console)

Ikari III: The Rescue (arcade and console)

Guerrilla War (arcade and console)

P.O.W. (arcade and console)

Prehistoric Isle in 1930

Psycho Soldier

Street Smart

TNK III (arcade and console)

Vanguard

Victory Road (arcade and console)
If that list seems a little light on content to you, don't worry – NIS America says that it will be revealing more titles for the compilation soon. The publisher will also be making a number of improvements to these titles for their Switch release, upgrading them with support for 1080p resolution and save states, along with a rewind feature that sounds similar to what we saw with the SNES Classic.
The SNK 40th Anniversary Collection will be getting a physical release here in the US, and die-hard fans of the company might want to have a look at the limited edition. This bundle comes with a physical copy of the game, a soundtrack featuring some of SNK's "nostalgic" tracks, a collector's box, and a hardcover art book. The limited edition is up for pre-order now over on the NIS America store, with a release currently slated for sometime this fall.
While the SNK 40th Anniversary Collection certainly sounds like a cool compilation, it's a sad reminder that the Switch doesn't have a dedicated store for retro titles like its predecessors did. The hope is that Nintendo will have more information for us by the time it officially launches the Switch's online service in September, but thus far, the company has said very little about a potential Switch Virtual Console. Perhaps we'll get some good news at E3 in June? Keep your fingers crossed, because the Switch would make an excellent retro gaming platform.