Nintendo Switch eShop gets some indie gems today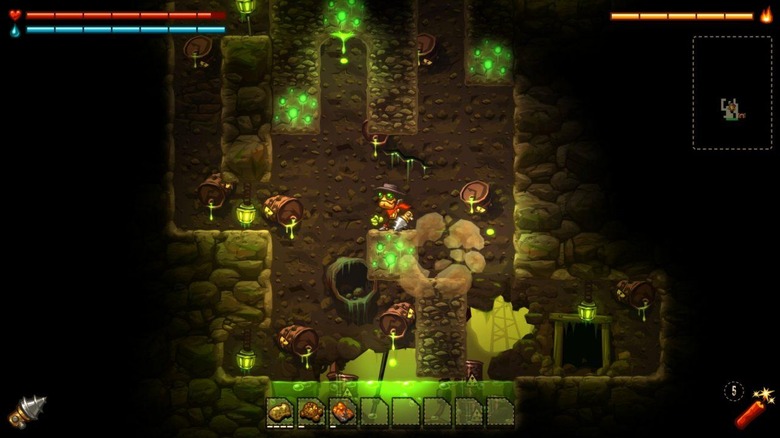 It's Thursday, and by now Switch and 3DS owners should know what that means: a fresh batch of games is arriving on the eShop. Just the same as in recent weeks, the Switch is getting most of the attention this week, with a few indie gems hitting the eShop today. That doesn't necessarily mean that 3DS players are missing out entirely, and we even see the Wii U getting some love this week as well.
Let's dive right into what's new for the Switch. Perhaps the biggest launch is Crypt of the NecroDancer, which was originally released on PC back in 2015. Since then, it's been one of the go-to games for fans of roguelike games, thanks in part to the unique way it blends dungeon crawling and rhythm-based movement. If you're like me and you've been playing a lot of Enter the Gungeon on Switch, this might be one worth checking out as well.
We're also seeing the launch of the original SteamWorld Dig on Switch today. SteamWorld Dig 2 ended up being one of 2017's most well-received indie games, so if you missed the original, now is your chance to see how it all started. There are a few other games that Nintendo calls out specifically, including Dandara, Night in the Woods, and Pokken Tounament DX Battle Pack: Wave 1, which adds Aegislash as a battle Pokemon along with a variety of new cosmetic items. Here's the full list of games launching on the eShop over the next week:
Nintendo Switch

SteamWorld Dig

Crypt of the NecroDancer: Nintendo Switch Edition

Dandara

Night in the Woods

Pokken Tournament DX Battle Pack: Wave 1

ACA NEOGEO SAMURAI SHODOWN II

3D MiniGolf

Black Hole (available February 6)

The Darkside Detective

10 Second Run RETURNS

AternoBlade

AternoBlade – Demo Version

Frederic 2: Evil Strikes Back

Her Majesty's SPIFFING

Island Flight Simulator

Mad Carnage (available February 2)

Mercenary Kings Reloaded

Shiftlings – Enhanced Edition

Sky Force Reloaded

Nintendo 3DS

Now I Know My ABCs 2

Radiant Historia: Perfect Chronology – Demo Version

Nintendo Wii U

Toon War

Battle Chopper (Virtual Console)

NECROMANCER (Virtual Console)
While the pickings are fairly slim for the 3DS, it is nice to see the Wii U on the list. Things have certainly slowed down dramatically for the Wii U, but that isn't stopping this handful of releases on the eShop. It may not be the best idea to get used to seeing the Wii U on this weekly list, but if you've been looking for something to play on the console, these games might be worth considering.