Nintendo Switch E3 2019: Every trailer from Nintendo's E3 Direct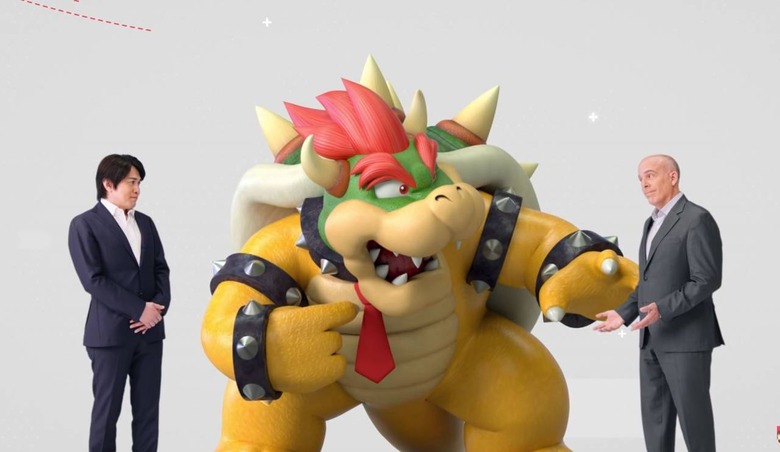 As it does every year, Nintendo made its big E3 2019 announcement by way of a special Nintendo Direct. The Direct clocked in at just around 40 minutes long and previewed a number of games that are coming to the console in the (hopefully) near future. If you missed the show, this is where you'll find all of the trailers that premiered during Nintendo's E3 Direct – every single one of them.
Super Smash Bros. Ultimate - Heroic Encounter
Nintendo kicked off its Direct by announcing the next DLC character for Super Smash Bros. Ultimate. Some time this summer, we'll see the Hero from the Dragon Quest series join the Ultimate roster, with different skins based on a variety of Dragon Quest protagonists. Nintendo has a pretty long history with the Dragon Quest franchise, but even regardless of that, the Hero's appearance in Super Smash Bros. Ultimate makes a lot of sense when you consider the next game on this list.
Dragon Quest XI S: Echoes of an Elusive Age - Definitive Edition
Dragon Quest XI S is a game that Nintendo has been teasing for a long time, and this year, the company gave the game what is almost top billing during its Direct. Though Dragon Quest XI originally launched on 3DS in Japan back in 2017, this is the first time it's appeared on a Nintendo console on a worldwide scale. We'll see the definitive edition of Dragon Quest XI launch on Nintendo Switch on September 27th.
Luigi's Mansion 3
One of the first-party games slated to launch on Switch this year, Luigi's Mansion 3 will task the taller of the two Mario Brothers with exploring a haunted hotel. The trailer you see below introduces us to some of the new tools Luigi will have at his disposal along with giving us our first look at Gooigi. Luigi's Mansion 3 still doesn't have a solid release date yet, outside of that previously-announced 2019 window.
The Dark Crystal: Age of Resistance Tactics
We knew that Netflix was going to be at E3 2019 to talk about video games, and one of its upcoming projects made its way into this latest Nintendo Direct. BonusXP and En Masse Entertainment are crafting a tactical strategy game based on Netflix's The Dark Crystal series, and we'll see it launch in 2019 with no release date revealed beyond that yet.
The Legend of Zelda: Link's Awakening
We figured that we'd get some kind of update on the incoming remake of Link's Awakening during E3, and it turns out we were right. Nintendo delivered a lengthy trailer for Link's Awakening during E3 2019, which among other things revealed the Chamber Dungeon – a special feature that allows players to arrange room layouts to complete objectives. The Legend of Zelda: Link's Awakening will launch on September 20th, 2019 alongside a special Link amiibo that's compatible with the game.
Trials of Mana
It looks like Square Enix is giving the third game in the Mana series the same treatment it gave to Secret of Mana last year. Square Enix is remaking Seiken Densetsu 3 "from the ground up" with 3D graphics, which sounds pretty great. Unfortunately, you Mana fans have a little while to wait for this one, as it isn't out until early 2020.
Collection of Mana
While you wait for Trials of Mana, you might want to check out Collection of Mana. The compilation collects the first three games in the Mana series, so if you're unacquainted with the franchise as a whole, this seems like a good place to start. Even better is the fact that it's available from the eShop now for $39.99.
The Witcher 3: Complete Edition
Despite its status as one of the most demanding games of the generation, The Witcher 3 is coming to Nintendo Switch. It won't be arriving without some significant downgrades, but even with that being a reality, it's hard to argue with being able to play The Witcher 3 on a portable console. Details are few and far between for the moment, but we'll look forward to more information before the game launches sometime later this year.
Fire Emblem: Three Houses
Fire Emblem: Three Houses is another first-party Switch game that's on the horizon, but unfortunately, we didn't get to see more gameplay during the game's Direct segment. Still, the trailer that we received does a good enough job of building excitement for Fire Emblem: Three Houses, and we're definitely looking forward to seeing if the series can successfully make the jump to the Switch when it releases on July 26th.
Resident Evil 5 & 6
Nintendo revealed at E3 that two more Resident Evil games are soon coming to the Switch. Resident Evil 5 and 6 will join the titles that are already available, so Capcom is slowly padding its library of Resident Evil Switch titles. Both games are arriving this fall, with no specific release dates yet.
No More Heroes 3
Travis Strikes Again: No More Heroes isn't even six months old yet, but already Grasshopper Manufacture is onto what's next for the franchise. We'll see Travis return to Santa Destroy after 10 years in No More Heroes 3, but beyond that, the trailer doesn't give very much away. There's plenty of time to learn more, though, as No More Heroes 3 isn't out until 2020.
Contra: Rogue Corps
With what is perhaps one of the strangest trailers of the entire Direct, Konami revealed that a new Contra game is in the works for the Switch. Dubbed Contra: Rogue Corps, the game is billed as an "over-the-top run-and-gun" title that offers both solo and online co-op play. We'll see Contra: Rogue Corps launch on September 24th.
Contra Anniversary Collection
If the announcement of a new Contra game has you feeling nostalgic, then you're in luck. Konami also announced the Contra Anniversary Collection on the heels of Rogue Corps, which bundles together 10 Contra games including the original Contra and Super C. The collection is available now on the eShop for $19.99.
Daemon x Machina
Daemon x Machina has been present in a few Switch Directs up to this point, and it made what is likely its last appearance before release during E3 2019. In Daemon X Machina, you'll hop into a mechanized battle suit and take on corrupted robots that are bent on destroying the world. Daemon x Machina is out on September 13th.
Panzer Dragoon
One of the big surprises to come out of Nintendo's E3 show was the announcement of a Panzer Dragoon remake. We don't hear much from the Panzer Dragoon series the days, but back in the Sega Saturn era, it managed to build itself a pretty decent following of fans. Forever Entertainment promises improved graphics and controls that still stay true to the original in this remake, so we'll see if the finished product backs those claims up when the game launches this winter.
Astral Chain
The next game from Vanquish developer Platinum Games, Astral Chain promises to be a "synergetic action game." Players will be put in the role of a rookie officer in an police task force that's looking to stop an interdimensional invasion using a sentient weapon called the Legion. From that description alone, Astral Chain sounds like a pretty wild ride, and we only need to wait until August 30th to find out if that's the case.
Empire of Sin
It may have been a bit strange to see John Romero's studio pop up in a Nintendo Direct, but the game he's working on with Obsidian Entertainment definitely seems like an intriguing one. Empire of Sin is the name of the game, and in it, you'll have navigate your way through Chicago's prohibition-era criminal underground. Empire of Sin is out in spring 2020, and we're definitely looking forward to seeing more.
Marvel Ultimate Alliance 3: The Black Order
We watched the Avengers face off with Thanos in both Infinity War and Endgame, but now we're going to get a chance to stop the Mad Titan ourselves. With Marvel Ultimate Alliance 3 dropping on July 19th, there was no doubt that it would get some screen time during Nintendo's E3 Direct, and from the trailer below, it looks like it'll be a pretty solid game. Nintendo also revealed that there will be a paid expansion pass for the game, which will add characters from the Fantastic Four, X-Men, and Marvel Knights.
Cadence of Hyrule ~ Crypt of the NecroDancer ft. The Legend of Zelda
This is another game that was a sure bet for Nintendo's E3 show, but what's most surprising is that Nintendo confirmed Cadence of Hyrule is launching this week. Cadence of Hyrule is a Zelda-themed spin-off to Crypt of the NecroDancer, which itself is a rhythm-based rougelike game. It that made your ears perk up, then good news: You'll be able to check out Cadence of Hyrule when it launches tomorrow.
Mario & Sonic at the Olympic Games Tokyo 2020
Okay, so a new Mario & Sonic title definitely isn't the most exciting of E3 reveals, but for those who like Olympics tie-ins, you could certainly do a lot worse than these games. Nintendo's E3 show brought confirmation that Mario and Sonic will be competing in the Tokyo 2020 summer Olympics, but you don't need to wait for next summer to play the game, as it'll be here in November.
Animal Crossing: New Horizons
After teasing the game a year ago, Nintendo finally gave us a look at the upcoming Animal Crossing title for Nintendo Switch. Dubbed Animal Crossing: New Horizons, this time we're heading to a deserted island to build our animal-filled towns. Unfortunately, this first look at gameplay also came with the announcement that the game won't be launching until March 20th, 2020.
Nintendo Switch games sizzle reel
Nintendo packed a bunch of upcoming Switch games into a five-minute long sizzle reel toward the end of the show. The games come at you in rapid fire fashion (and even include some of the games that were discussed during other parts of the Direct) but some standouts include Hollow Knight: Silksong, Ni no Kuni: Wrath of the White Witch, and Dragon Quest Builders 2. Some of the games in the reel even have release dates accompanying them, so check it out below.
Super Smash Bros. Ultimate - Best Friends
Nintendo had one more Super Smash Bros. Ultimate reveal to make before the end of the show, announcing that none other than Banjo-Kazooie are coming to the game as a DLC fighters. Banjo-Kazooie have been frequently requested as DLC fighters given that their console of origin is the N64, and now it's finally happening. Banjo-Kazooie are arriving at some point this fall, after the arrival of Hero from Dragon Quest.
The Legend of Zelda: Breath of the Wild sequel
Nintendo saved its biggest announcement for last, closing out the show by revealing that The Legend of Zelda: Breath of the Wild is getting a sequel. Details at this point are slim as it sounds like development only recently started, but if it's half as good as Breath of the Wild was, this sequel is going to be excellent.
Wrap-Up
Nintendo's E3 2019 Direct wasn't quite as packed as previous ones have been, but it had its share of huge announcements. The fact that there's a Breath of the Wild sequel in the works probably came as a shock to a lot of people, and despite its delay, Animal Crossing: New Horizons looks like it's shaping up to be a solid addition to the franchise. What did you like about Nintendo's show? Head down to the comments section and let us know!