Nintendo offers Wii Internet Channel for free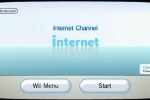 One of the things that always bothered me about my Nintendo Wii was that I couldn't just surf the net on it if I wanted without having to spend 500 Wii Points to buy the Internet Channel. My PS3 came with the ability to surf the Internet without extra cost.Nintendo has announced today that it will be offering the Internet Channel free of charge to all Wii users. The channel can be downloaded from the Wii Shop Channel now. Once the channel is installed, the user can surf the Internet, check email, and more from their couch.
If you are one of the Wii users who did spend 500 Wii Points to get the Internet channel previously, Nintendo is making things good for you. Nintendo will allow those who paid for Internet capability a free NES game download at up to 500 points in value. The Internet Channel has also been updated to support the latest Flash version.