Nintendo Labo VR Kit Released: Here's What You Get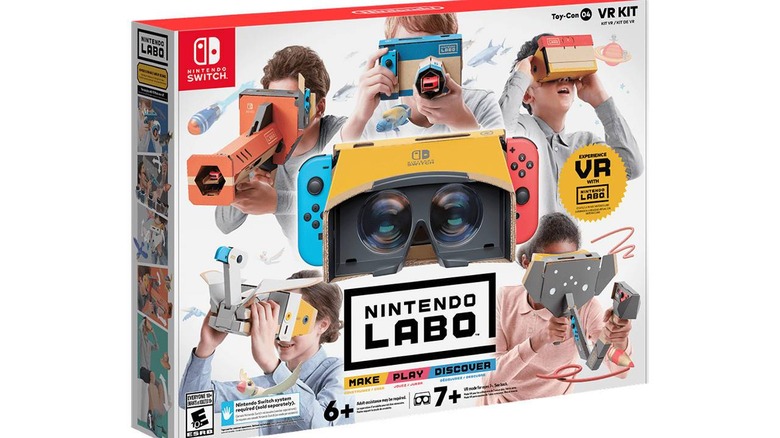 After a few weeks of teases, Nintendo is launching the fourth Toy-Con Kit for Nintendo Labo today, and it's a big one. The Nintendo Labo VR Kit is available now, and with it, players can make their own Switch-powered VR headsets out of cardboard. There are, of course, a number of games to play and cardboard accessories to go along with that VR headset.
The VR Kit is actually launching in two different varieties today. There's the standard VR Kit, which includes everything you need for the full Labo VR experience. Not only does it include the VR Googles – as they're officially called by the big N – but it also includes the Toy-Con Blaster, Camera, Bird, Wind Pedal, and Elephant, all of which are attachments for the VR Googles that allow for various games.
Of course, as with all Labo kits, the full VR Kit also includes the software you'll need to actually use those Toy-Con creations. For someone who knows they want to dive into everything Labo VR has to offer, this is the kit to get, but it does come with a rather hefty price tag of $79.99. If you're not looking to spend that much, you can pick up the Labo VR Starter Set instead, which includes the Labo software, VR Goggles, and the Toy-Con Blaster for $39.99.
If you wind up buying the Starter Set and decide later that you want the other Toy-Cons, Nintendo has you covered there too, as it's offering two VR Kit Expansion Sets. One of those sets includes the Elephant and Camera add-ons, while the other includes the Wind Pedal and Bird. Each expansion set runs $19.99, which means you're paying the same price whether you buy the full Labo VR kit or you buy the Starter Set and its expansions over time.
For a run down of everything the Labo VR Kit can do, have a look at the video above. Keep in mind that Breath of the Wild and Super Mario Odyssey will soon be compatible with the Labo VR Kit as well, which might make the Starter Set worth a purchase for those who aren't normally interested in what Labo has to offer. Are you picking up Labo VR now that it's available? Head down to the comments section and let us know!