Nintendo Labo Flexes Its Education Muscle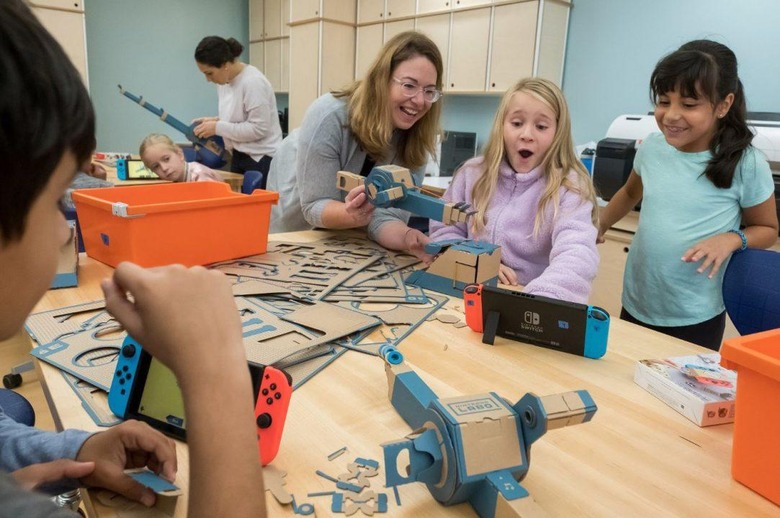 It was just a matter of time, we suppose: Nintendo Labo is heading to classrooms around the United States. Nintendo announced today that it has teamed up with the Institute for Play to come up with elementary curriculum centered around Labo and its educational capabilities. At the moment, this new initiative is going through a test in New York City before rolling out to more classrooms around the country.
More specifically, Nintendo plans to eventually reach 2,000 students between the ages of 8 and 11, and it wants to hit that goal during the 2018-2019 school year. The pilot program that's currently being carried out in the greater New York area will inform a Nintendo Labo Teacher Guide created by the Institute of Play, which will include lesson plans and modules centered around Nintendo Labo and its benefits for STEAM Learning.
Once the program expands beyond New York, Nintendo will look to bring the it to around 100 additional schools. Teachers can sign up to participate in the program over at the Institute of Play's website, and if their school is selected, Nintendo will provide the Labo kits, Switch consoles, and Teacher Guides necessary for the program at no cost.
Institute of Play's website says that the program will get underway in November, so it sounds like Nintendo is looking to expand beyond its pilot quickly. The program will then wrap up in March 2019, giving teachers a few months to work their way through the curriculum provided by Nintendo and the Institute of Play.
It isn't really surprising to see Nintendo Labo at the center of a new education program, as its benefits for early learning in the STEAM fields were- clear from pretty much the moment it was announced. If this program goes well, there's always the chance that Nintendo could revive it for the 2019-2020 school year, and it isn't hard to imagine a future where Nintendo Labo becomes as common in the classroom as something like Minecraft: Education Edition.