Nintendo bringing video content to the Wii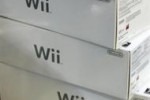 Yesterday Nintendo Co. said they will be offering videos through their very popular Wii gaming console. Nintendo is finally trying to catch up with their competing consoles the Xbox 360 and Playstation 3. Nintendo will be developing original programming which Wii users will be able to access via the internet and watch on their TV.
Nintendo is considering both free and paid video content at the moment. Nintendo will be teaming up with Japan's leading advertising firm Dentsu Inc to developer this service. It looks like Japan will be getting this service next year with a goal of expanding to foreign markets if all goes as planned.  Both companies are reaching out to business to help take part in developing original Wii videos.
Forty percent of the 34.55 million Wii gaming consoles are sitting in living rooms next to TV sets already. "Nintendo and Dentsu shall use the environment surrounding the Wii so that living rooms with Wii-ready TVs would become more of a fun area for communication among families and friends," the firms said in a joint statement.