Nikon fastest DX prime to date : AF-S DX NIKKOR 35mm f1.8G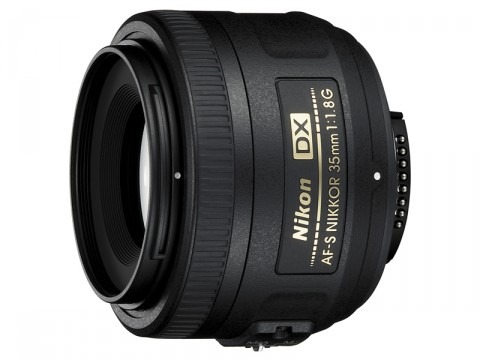 Nikon has today announced the AF-S DX 35mm F1.8G lens with field of view equivalent to about a 52mm lens on a 35mm sensor size camera. It's the faster Nikon's DX-format digital SLR prime lens to date, but hardly ground breaking.
The Nikkor prime collection falls short when compares to its rivalry with the availability of a host of ultra fast Canon AF prime optics from 24mm 1.4L, 35mm 1.4L, 50mm 1.2L to 85mm 1.2L. Despite claiming widest aperture, it's hardly fast enough at F1.8 and only optimized for DX-based cameras; but the good news is affordable and has an integrated Silent Wave Motor built into the lens body to enable AF feature for Nikon's D40 or D60 that's lacking a built-in focus motor.
The Nikkor AF-S DX 35mm F1.8G is slated to ship from March with a suggested retail of $199.
AF-S DX NIKKOR 35mm f/1.8G Major Features
* DX-format, normal single-focal-length lens with 35mm focal length (picture angle is equivalent to a focal length of 52.5mm in FX and 35mm formats)
* Large maximum aperture of f/1.8
* Silent Wave Motor (SWM) ensures smooth AF operation
* High-performance optical system with aspherical lens delivers superior reproduction capability
* Compact, well-balanced design when attached to small SLRs
* Two focus modes available – M/A (manual-priority autofocus) and M (manual focus)
* Metal mount
* Natural blur effect thanks to seven-blade rounded diaphragm
AF-S DX NIKKOR 35mm f/1.8G Specifications
* Focal length : 35mm
* Maximum aperture : f/1.8
* Minimum aperture : f/22
* Lens construction : 8 elements in 6 groups (with one aspherical lens)
* Picture angle : 44°
* Closest focus distance : 0.3 m/0.98 ft.
* No. of diaphragm blades : 7 (rounded)
* Filter attachment size : 52mm
* Diameter x length (extension from lens mount) : Approx. 70 x 52.5 mm/2.8 x 2.1 in.
* Weight : Approx. 200 g/7 oz.
* Supplied accessories : 52mm snap-on front lens cap LC-52, Rear lens cap LF-1, Bayonet hood HB-46, Flexible lens pouch CL-0913