Nikon celebrates 100 years with commemorative editions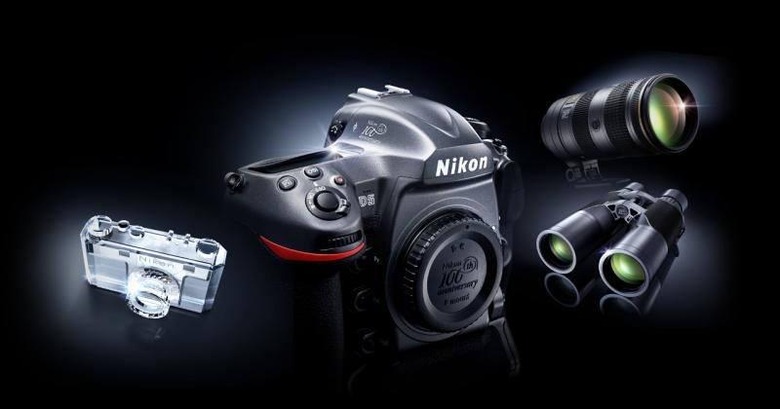 Not many businesses can boast of a century of uninterrupted existence. Some that have lasted that long only managed to survive by turning away from their paths. So when Nikon announces its 100th anniversary, which happens in July, there is definitely reason for rejoicing among the camera makers' fans. And to mark its first century in the business, Nikon will be releasing not just commemorative trinkets but also special 100th Anniversary editions of its cameras, lenses, and even its binoculars.
On the camera side, you have the 100h Anniversary Editions of the D5 DSLR and the D500. The D5 is still Nikon's flagship premium camera and is one of the cameras that had the distinction of going to outer space. Appropriately the Nikon D5 100th Anniversary Edition comes with reminders of Nikon's contribution to space science.
The Nikon D500, on the other hand, is the company's first camera to feature its SnapBridge technology. Now a common feature on its modern digital cameras, SnapBridge allows for the easy transfer of photos and videos from camera to mobile device. The commemorative edition of this camera comes with specially marked metal case denoting its limited edition serial number.
If you're a Nikon fan, you might want to throw in a 100th Anniversary Edition NIKKOR lens as well. The special 2017 batch includes the NIKKOR 70-200E and the Triple F2.8 Zoom Lens Set. Or, for something a bit out of the ordinary, the WX 7x50 IF, WX 10x50 IF, and 8x30 E II binoculars are also getting special models as well.
But if you're more of the collecting type, there also commemorative items coming. At the top of that list, and probably price, is crystal reproduction of the Nikon Model I, created by none other than Swarovski. A pin collection of Nikon's most popular products will also be available. And a cute tiny Nikon F, the company's first flagship SLR, can also grace your shelf or desk.
Details of the availability, and hopefully pricing, will be revealed sometime in June. Nikon's anniversary celebration will take place on July 25, 2017.
SOURCE: Nikon