Nielsen Q3 data shows Android leading at 43%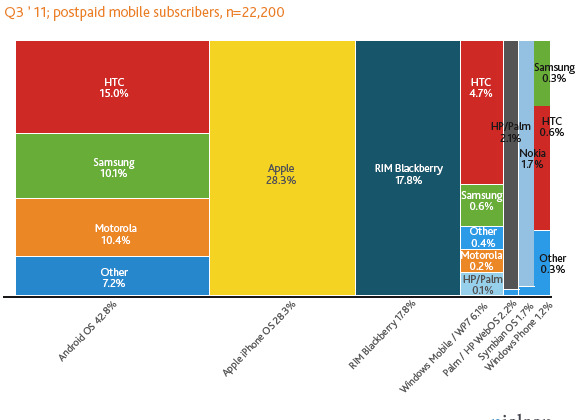 Market research firm Nielsen has released its Q3 report for the US smartphone market, revealing that the Android mobile platform continues to dominate and grow, now reaching 42.8 percent share, up from 39 percent last quarter. Apple's iOS platform comes in second place at 28.3 percent with more modest growth, but takes the lead among smartphone manufacturers.
RIM's BlackBerry platform continues to slide, dropping to 17.8 percent market share, while Microsoft's Windows Mobile and Windows Phone 7 platform slid down to 6.1 percent. Since this data covers the 3-month period ending in September, consumer anticipation of major product launches in Q4 may have affected summer sales, especially in the case of Apple's iPhones with the iPhone 4S launch in October.
Overall, 44 percent of the US mobile phone market now owns a smartphone, with smartphones being 56 percent of all US mobile phone purchases made in Q3. Of the smartphone subscribers in the US, 71 percent have a device that runs either Android or iOS. And when it comes to smartphone apps, the two platforms dominate even more with a combined 83 percent of all smartphone app downloads.
[via Engadget]