Nexus 9 seen in Vietnam in the flesh, Amazon starts pre-orders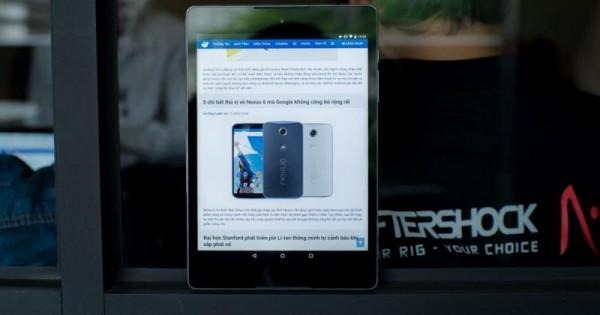 We may receive a commission on purchases made from links.
The excitement around Google and HTC's newest Nexus 9 tablet is so great that some people just can't keep their hands off it, or keep those from showing up on the Internet. The new Nexus tablet isn't due out in a few weeks, but someone in Vietnam already got their hands on not one but two Nexus 9, in black and white colors, just to tease everyone else with a substantial number of photos. In the meantime, though, Amazon has already started the ball rolling.
The hands-on doesn't really contradict or correct anything that we already know from Google's official revelation of the tablet, but it does offer some observations on the finer details of the device. For example, the tablet is said to be slightly thicker than the advertised 7.95 mm, which is probably due to the somewhat curved back cover, which Google may not have included in its measurement. There is also the fact that if you get the white variant, you will notice that the color is immediately obvious from the face of the device, unlike its black counterpart. Curiously, this hands-on also show the rumored "origami" cover for the Nexus 9, whereas only the magnetic folio keyboard case was revealed during the announcement. We'll have to see if this is an official accessory or something cooked up by third party makers only.
There are no other hidden surprises, both within and without, which means we will be getting everything that was promised, which is quite a lot for a Nexus tablet. That includes an 8.9-inch QHD screen, a 64-bit NVIDIA Tegra K1, dual front-facing speakers with HTC BoomSound, a large 6,700 mAh battery, but sadly only 16 or 32 GB of storage. Of course, another highlight of the device is the software running on it, the latest Android 5.0 Lollipop, which is said to still be in the very final stages of development, causing the Nexus 9's availability to be pushed back to November.
Those who can't wait, of course, can pre-order theirs. While Google officially starts pre-orders on the 17th, Amazon has sort of beaten them to the punch by putting up theirs a day early. If you don't want to get your Nexus 9 via Google Play Store, you can put in an order for a 16 GB model for $399.99 or a 32 GB configuration for $479.99. Shipping, however, won't happen until November 3.