Nexus 6 official: here are the details [Update]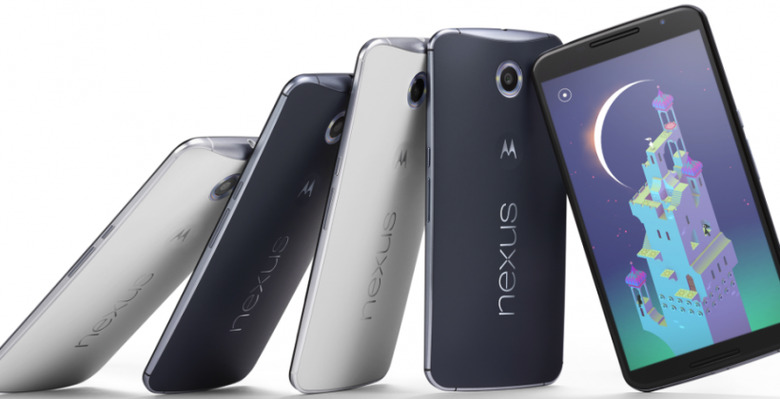 The Nexus 6 is a big phone. Google is wisely marketing it as one with "more space to explore", with "more sound to hear". Still, a 6-inch screen encroaches on too-big for many users. The rest of the Nexus 6 is equally big, meaning Google has scaled their latest Nexus accordingly. Now that it's out,we're learning all about the newest Nexus flagship smartphone, and just what it brings to the table, officially. Oh, and hey, we're finally getting Android Lollipop, too!
The screen on the Nexus 6 is a full 6-inch Quad HD offering, which will have lots of benefits, but some sizing drawbacks as well. Like the Moto X it's styled after, there are also dual front-facing speakers. As for the official specs, here you go, friends:
5.9-inch 1440x2560 display, 493 ppi

Snapdragon 805 processor, clocked at 2.7GHz

Adreno 420 GPU

13MP Rear-facing camera with f2.0 lens, Optical Image Stabilization

2MP front-facing cam

3220mAh battery

32GB or 64GB Memory

Android Lollipop
We don't get word of how much RAM is on-board, but the smart money is on 2GB. Also, the Nexus 6 site has the camera specs reversed — it's not a 13MP front-facing cam with a 2MP rear-facing shooter. No way.
The Nexus 6 will be available for pre-order later this month via the Play Store, but Google isn't committing to a hard date just yet. The device will also be available at all four major carriers in the US, as well as US Cellular — but Google isn't saying when any of them will get it. Best Buy looks to be an official retail partner for the Nexus 6, too.
Update: The Nexus 6 will be $649 unlocked via the Play Store. Google now says pre-orders will begin October 29.
Source: