Nexus 6 now available via T-Mobile, Nexus 9 coming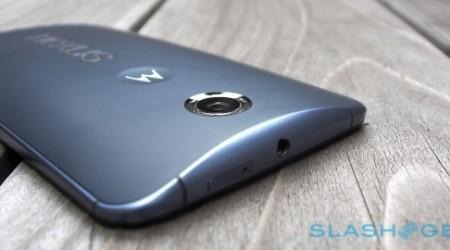 As they promised in an eleventh-hour decision last week to push back the launch of the Nexus 6, T-Mobile now has the device up for order. The new Nexus handset will be available for $0 down, and can be had with the carrier's monthly installment plan. Like other US carriers, T-Mobile has the 32GB variant in blue — no white. Unlike the rest, T-Mobile also has the 64GB version of the Nexus 6, but again, no white version has been found outside of the Play Store.
The 32GB version will set you back $27.08 for 24 months, with a full retail cost of $649.92. If you want the 64GB version, you can pay it off monthly to the tune of $29.16 for 24 months, with full retail pricing at $699.84.
T-Mobile says the 64GB version is offered via their Underground website, though it's easily found and available via their Nexus 6 device page.
If you want to round out your Nexus offerings through T-Mobile, the Nexus 9 is also coming soon — just not today. The 32GB Nexus 9 will hit the carrier's site in "early December", and be available for $24.99/month.
The Nexus 6 was originally supposed to launch last Wednesday via T-Mobile, but the company pulled the plug at the last minute due to supply availability. Getting hands on the Nexus 6 seems to be the lone issue with the Nexus program this year, as even Google is having trouble keeping their new flagship ready for customers to order.
Source: T-Mobile