Nexus 4 8GB And 16GB Prices Slashed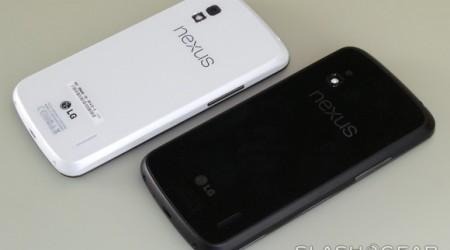 Google has just slashed the rate of its 8GB and 16GB Nexus 4 models in the Play Store by $100, bringing the price down to $199. Such follows closely on the heels of Nexus 5 speculation, not the least of which was a rumor earlier this month that Google would be keeping the same pricing structure for the next-generation Nexus, placing it at $299.
The previous price for the 8GB version of the Nexus 4 was $299 (the same price speculation has the Nexus 5 pegged at), and so with the price drop users can grab it now for $199. The 16GB version was also dropped, this one from $349 to $249. Both are in stock for now and shipping within 2 business days, but that could change soon.
For those who aren't familiar, the Nexus 4 features a 4.7-inch display with Corning Gorilla Glass 2 and a resolution of 1280 x 768, making for a 320 ppi. There's a Qualcomm Snapdragon S4 Pro under the hood alongside 2GB of RAM, as well as an 8-megapixel camera on the back and a 1.3-megapixel camera on the front.
Connectivity includes 802.11 a/b/g/n, NFC, and Bluetooth, and the battery's capacity comes in at 2,100mAh. Software is Android 4.2 Jelly Bean. Note that — for now, at least — the Play Store has only been partially updated to reflect the new pricing, and that in some places you'll still see the old pricing structure. This will likely be updated soon, but fret not if you don't immediately see the discount.
Have you just purchased a Nexus 4 and are lamenting your timing? If so, you can head onto this link and get a refund for the difference, assuming no more than 15 days have passed.
SOURCE: Google Play Store