Next Destiny update lands in April with new challenges, gear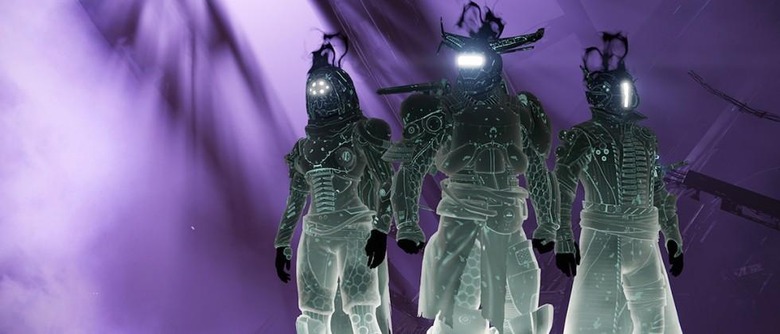 Fellow Destiny fans, rejoice! Developer Bungie has finally shared some solid info on the next activities update for everyone's favorite shooter. Since the release of the huge expansion that was The Taken King back in September, things have gotten little stale, with the last few months seeing only minor, temporary "events" to hold our attention. That's set to change on April 12th, however, as Destiny will be receiving its largest non-paid update ever, including promises of new gear and activities.
Bungie's weekly blog post on Friday revealed that the update, while untitled beyond "Spring Update," will bring the game up to version 2.2. The key details in terms of new PvE (player-versus-environment) content at this point include a new a quest tied to a new strike (Destiny's equivalent of a short mission with a boss at the end). The developer plans to reveal everything about the update over the next three weeks during a series Twitch live-streams.
While the mentions about new and updated gear were intentionally left vague, hardcore Destiny players immediately recognized the armor that was in the featured image above. It's a set for each class type that was tied the Prison of Elders end-game activity, which was part of the expansion prior to The Taken King. Destiny content from prior to September wasn't updated in terms of increased difficultly levels or gear stats, so it's essentially become irrelevant at this point.
The inclusion of that armor is leading many players to believe that the spring update will re-introduce Prison of Elders and other activities like the Vault of Glass and Crota's End raids at the current level-cap difficulties, along with their associated rewards. This is something that's been requested by the Destiny community for some time now.
The good news is that the update will be completely free for players that already own The Taken King, however they shouldn't set their expectations too high. This update will still be far from the depth and size of the full paid expansions Destiny has seen in the past; a single quest and strike are not long-lasting content, and if the theories about the upgraded end-game activities are true, it's still content that's already been in the game and most players have experienced.
It's still a welcome addition for us Destiny addicts, as all we have to look forward to at this point is an unspecified expansion this fall, followed by a full sequel sometime in 2017.
SOURCE Bungie