NewerTechnolgoy reveals line of iPhone 4 cases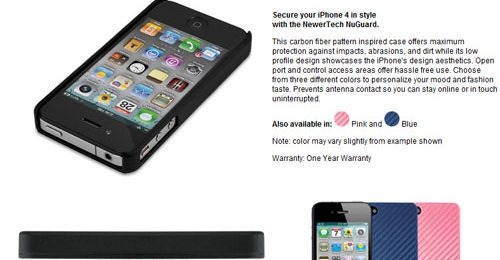 NewerTechnology has stepped into the iPhone 4 case market with several interesting new cases for the smartphone. The coolest of the new offerings is the NuGuard Carbon Fiber Style case. The cases aren't made from real carbon fiber, but they look like they are. You can get it in black, blue, and pink colors for $24.99.
The company also has the NuGuard Soft Silicone Protective Case for $14.99 that comes in black, blue, red, and frost colors. A NuGuard Hard Shell Polycarbonate Case is offered for $14.99 that has more impact resistance and comes in clear or transparent black for $14.99.
The other two products in the new iPhone 4 line are the NuGuard Gel Protective case and the NuVue Anti-Glare Screen and Back Protector. The Gel case sells for $14.99 and is made to feel and look like silicone with the protection of a hard shell case. It comes in black, blue, pink, and clear for $14.99. NuVue film is a film that protects from scratches and reduces glare on the screen of the device selling for $12.99.