New Windows 10 S laptops are designed for "Firstline Workers"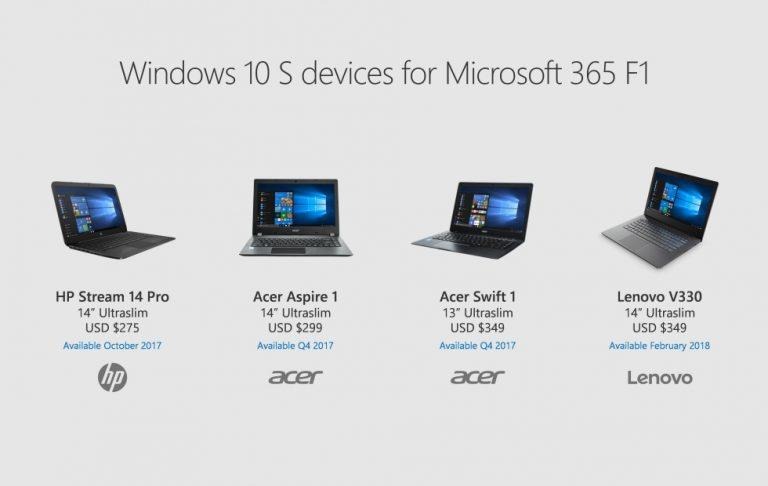 When Microsoft announced Windows 10 S, it was clearly seen as an attempt to regain lost ground from Chrome OS. Especially with its focus on the education sector and Chromebook-like laptops. But just as Chrome OS and Chromebooks aren't just used in schools, Microsoft is also aiming its guns at another, and potentially more lucrative, audience: the enterprise. At its Ignite conference, Redmond announced four new Windows 10 S devices but, this time, it's specifically targeting what it calls "Firstline Workers".
It's really just a fancy term for sales personnel, customer representatives, and other employees who are the company's "first line" or first point of contact with customers. These workers are often given affordable, or at least subsidized, devices, which often end up being iPads or, to a lesser extent, Android tablets. Of course, Microsoft wants in on it, too.
So instead of giving firstline workers some niche device, Microsoft is encouraging businesses to get one of the four upcoming Windows 10 S laptpos instead. They're just as, or, compared to iPads, even more affordable but also run Windows. Well, more or less Windows. It is, of course, Windows 10 S, which is the locked down version of Windows 10. That might be a hard limit for desktop users but exactly what employers and IT departments want.
Mind, these laptops are not that different from previous Windows 10 S laptops in that they are mid-range devices. Details are still slim at the moment, but, if their predecessors are any indication, they are mostly Intel Celeron-powered laptops. The list includes:
• HP Stream 14 Pro – October 2017, $275
• Acer Aspire 1 – Q4 2017, $299
• Acer Swift 1 – Q4 2017, $349
• Lenovo V330 – February 2018, $349
Microsoft has made no mention of whether these new laptops will be allowed to upgrade to Windows 10 Pro for free as well. Considering Microsoft extended the deadline of that offer, that might indeed by the case.
SOURCE: Microsoft