New thinner solid state drives from Simpletech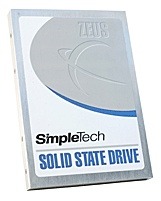 The big news lately regarding hard drives has mostly been centered around Solid State Drives. There are plenty of obvious reasons for this, quicker access time, more shock-resistant, etc. Simpletech is hoping to add "thin" to that list. The Zeus line of SSD's now includes a 2.5" drive that measures only 9.5mm thick.
The drive has a capacity of 64GB which makes it perfect for ultra-portables (or your main drive if you're a gamer) Being so thin, it will be able to make it's way into much smaller laptops. No word yet on when we'll see these on the market, or what they'll be going for.
Simpletech Announces Worlds Thinnest 2.5 inch 64Gb SSD [via engadget]