New Slingbox hardware lands at Best Buy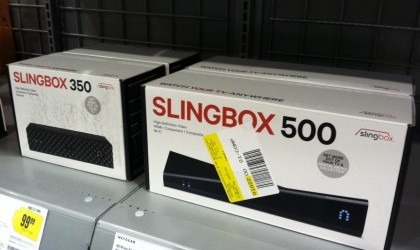 I'm unsure why exactly a company wouldn't announce new products, sending them directly to retail outlets instead. If customers don't know the new products are available the chances of them buying them would seem more unlikely. However, more than a few companies never say a word about new products, and they just turn up on store shelves. This is exactly what has happened with a pair of new Slingbox models.
The new models are the Slingbox 350 and the Slingbox 500. Both the devices stream content at up to 1080p and have redesigned chassis. Like all other Slingbox devices, the point of both new products is to allow you to placeshift your content recorded on your home DVR to your computer or mobile device.
The Slingbox 500 has an HDMI input and an HDMI output, a remote control, USB storage, and apparently an on-screen wizard for set up. The device is also the first Slingbox to have integrated Wi-Fi. One side effect of these new devices being unannounced is we don't know what all the features are.
You'll notice in the photograph that there are some price tags underneath each of the devices, which are apparently for different items. Zatznotfunny reports that Best Buy wouldn't sell either device so perhaps it's not so much that they were both unannounced as someone place them on the shelves too early.
[via Zatznotfunny]