New Porsche 911 Turbo S 3.8L boxer engine makes 641hp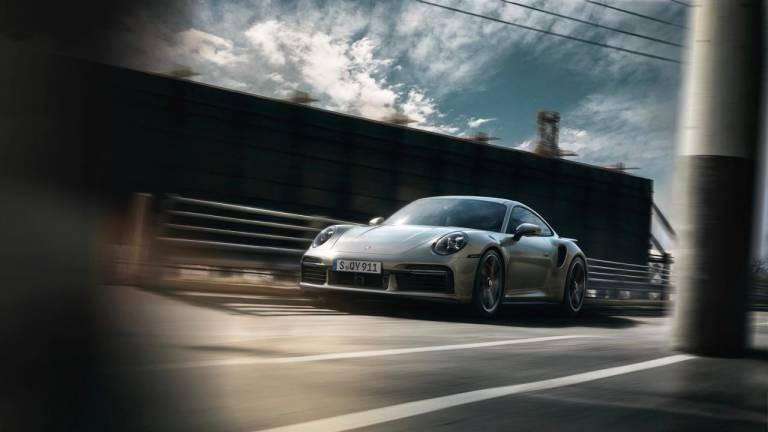 Porsche is talking up the new 911 Turbo S sports car with its new 3.8L twin-turbo power plant. The engine has a pair of VTG turbos on it and delivers 478 kW or about 641 hp. The engine makes 800Nm of torque or about 590 lb-ft. Porsche also fits the 911 Turbo S with a new Turbo specific 8-speed PDK transmission that allows the car to reach 100 km/h in 2.7 seconds.
The top speed is 330 km/h. The new Turbo S is 45mm wider above the front axle and 20mm wider in the rear. Porsche says there are new aero improvements for the car and that it has mixed-size tires. A new and larger rear wing adds more downforce. Porsche has added equipment options for the new Turbo S.
They include Porsche Active Suspension Management with a sport chassis lowered by 10mm. The exhaust also has adjustable flaps for a distinctive sound. The car will be offered in coupe and cabriolet forms. Turbo S can reach 200 km/h in 8.9 seconds, making it a second faster than the past model.
Porsche fits the car with Porsche Traction Management all-wheel drive that can send up to 500Nm of torque to the front wheels. The interior has been updated with a sporty look, and a new two-tone interior will be offered via Porsche Exclusive Manufaktur. The car features 18-way adjustable sport seats.
The screen for PCM is 10.9-inches, and Porsche will offer a Sport Chrono package with an integrated Porsche Track Precision app and Bose Surround Sound. 911 Turbo S cars also get a new GT sports steering wheel. The 911 Turbo S coupe will sell for €216,396 with the 911 turbo S Cabriolet selling for €229,962; prices include VAT.