New Monster Hunter Stories 2: Wings Of Ruin Story, Gameplay Details Revealed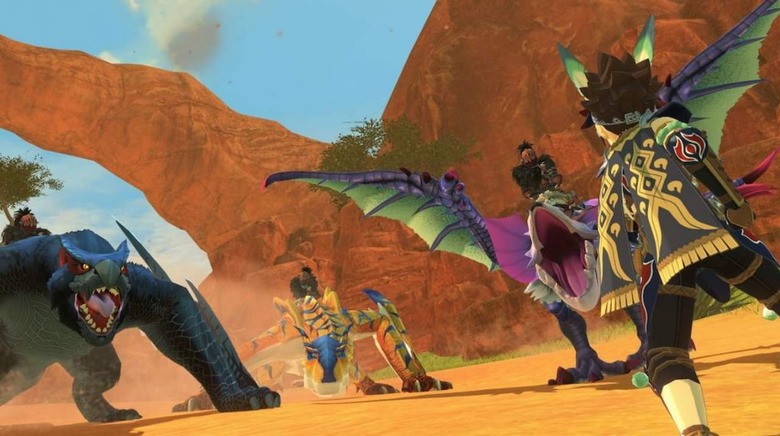 In addition to revealing new information about Monster Hunter Rise and its version 2.0 update today, Capcom also shared new details about Monster Hunter Stories 2: Wings of Ruin. Revealed alongside Monster Hunter Rise last year, Monster Hunter Stories 2 will feature gameplay that's quite a bit different from traditional Monster Hunter games. Today, we learned more about the game's story and its gameplay by way of Capcom's Monster Hunter presentation and a new trailer.
Today Capcom debuted the third trailer for Monster Hunter Stories 2, which reveals that some familiar faces from the first game will be returning for this one. Lilia and Reverto will be making appearances in Monster Hunter Stories 2, and they won't be alone, as this new trailer revealed that a number of Hunters and Riders are interested in Razewing Ratha, a flightless Rathalos the story is centered on.
While the trailer does a good job of setting the stage for the story, it doesn't delve into how combat will work in this installment. For that, we need to turn to Capcom's digital Monster Hunter presentation that took place earlier today. You can see that presentation embedded below, but in short, Capcom has made some improvements to the turn-based combat system from the first game.
The three attack types of Power, Speed, and Technical are still present, but this time around, you'll be able to target specific monster parts in battle, which is something of a reference to the mainline Monster Hunter games. There's also a new Battle Buddy system that allows you to team up with other characters and their monster companion – assuming they have one. Add to that new Double Attacks and Kinship skills, and it sounds like the battle system in Monster Hunter Stories 2 will be quite a bit more fleshed out than what we saw in the first game.
Monster Hunter Stories 2: Wings of Ruin will be launching on Nintendo Switch and PC on July 9th. The presentation we've embedded above also includes the details revealed today about Monster Hunter Rise, so if you missed it earlier, be sure to check it out.