MacBook Air refresh confirmed for Ivy Bridge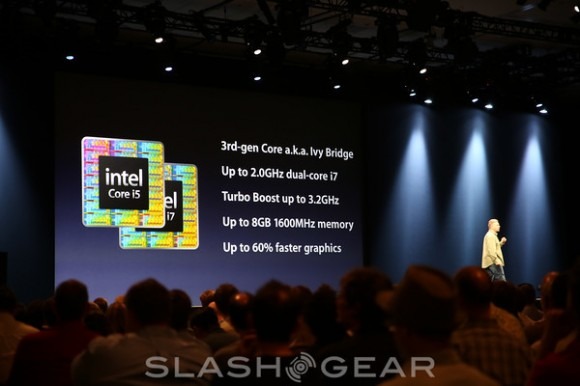 Apple has just confirmed the specs for its new MacBook Air notebooks and as expected they will be sporting the latest Intel Ivy Bridge chips. The announcements are coming from the Apple's WWDC 2012 event, which is currently underway. We are covering the event live, so be sure to check out our live blog here.
The new MacBook Airs not only get Ivy Bridge processors up to the 2GHz dual-core i7, but also get up to 8GB of memory, and 60 percent faster graphics. They also get 512GB of flash storage with 500MBps read speed, about twice as fast as the current Air models.
Additionally, Apple is adding USB 3.0 to its MacBook Airs in addition to USB 2.0. There will also now be a 720p FaceTime camera and the notebooks still comes in either an 11-inch or a 13-inch model.
The 11-inch starts at $999 with a 1.7GHz dual-core i5 processor, 4GB of RAM, Intel HD 4000 graphics, and 64GB SSD. The 13-inch starts at $1,199 with a 1.8GHz dual-core i5, 4GB of RAM, and 128GB SSD. And they're both shipping today.