New Kingston Flash Drives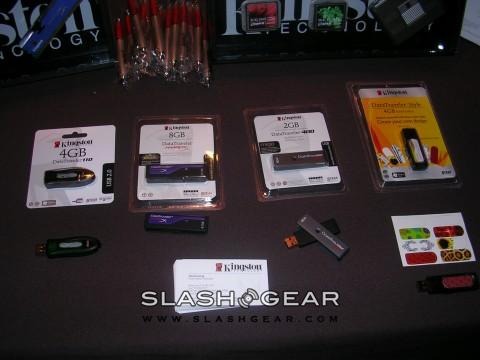 Kingston was showing off 4 new flash drives, the one I was most impressed with is the HyperX one. I mean, their HyperX PC memory is impressive so I can only expect similar speeds from this flash drive, and it delivers with a write speed of 20MB/second and read speed that's 10MB/second faster, this thing is built for ReadyBoost. You can get these drives for 74, 131, and 266 dollars in capacities of 2, 4, and 8 gigabytes respectively.
Then there was the DataTraveler Style which comes with one sheet of custom punch outs that you can insert into a slot in the drive to give it that little bit of unique style, and they also have a special site where you can make your own and print them out if you don't like the designs that come bundled. This model comes in 1, 2, 4, and 8 gigabyte capacities for $16, $27, $54, and $110 respectively.
There are two more, the DataTraveler 110 and the 400, the 110 is boring, its new, but its just a plain old flash drive that's available in 4 colors corresponding to their capacity which goes up to 8GB. The 400 on the other hand has the MigoSync software built in which will allow you to sync a bunch of files from your home PC and more or less completely recreates that environment on any other Windows PC all from the flash drive. The DT 400 is available in 2, 4, and 8 gigabytes and can be had for $31, $56, and $137.