New JVC Everio Models have both internal hard disk and microSDHC card slot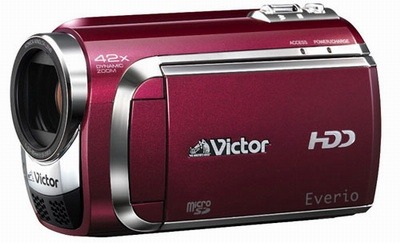 Some people love to capture hours and hours of video on a single trip, without the need for uploading their content to make room for more. JVC just released two new Everio camcorders that both include a microSDHC card slot and internal hard disk for storage.
The first model GZ-MG840, comes 60GB hard drive in either red, blue or silver colors. The GZ-MG880 comes in black with a whopping 120GB internal hard drive. Both camcorders can shoot in 720 x 480 widescreen format DVD-resolution video. There is also a special 352 x 240 format designed specifically for YouTube. You can also upload videos directly to YouTube with the bundles software.
With the 120GB internal hard drive you can store 28 hours and 40 minutes worth of high quality MPEG-2 format. You can also expand the storage with an 8GB microSDHC card to gain an extra 1 hour and 54 minutes of video. The new JVC Everio GZ-MG840 and GZ-MG880 are now available in Japan for the retail price of $757 and $811.