New Japanese muscle suit capable of lifting 30kg, weighs only 5.5kg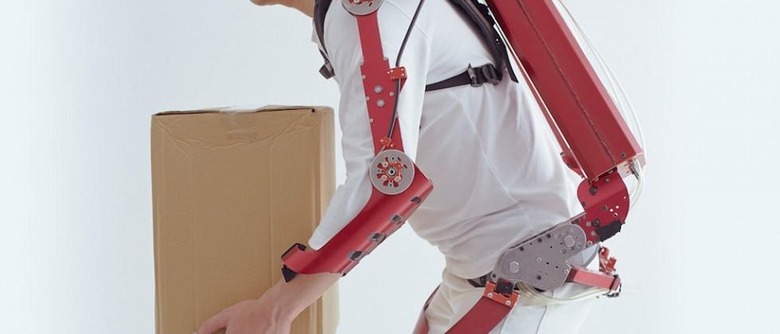 Japanese company Innophys has unveiled a new wearable exoskeletal-like harness that can reduce the weight something being lifted by as much as 30 kilograms (66 pounds). Dubbed the Muscle Suit, the harness features hydraulically controlled attachments that pair with a wearer's arms and legs, essentially adding artificial muscles that provide additional strength when lifting heavy loads. It doesn't actually lift objects on its own, but it does make them seem much lighter than they are.
Innophys, which stems from the Tokyo University of Science, unveiled the suit earlier this month at the Tokyo International Robot Exhibition. It is intended to be used by workers not only in fields where heavy lifting is required daily, such as agriculture and industry sectors, but also in Japan's flourishing elderly care field.
Japan is currently facing a population crisis where the elderly are rapidly becoming one of the largest groups. 26% of the population is already aged 65 or older, with 13% being 75 or above, and those percentages are expected to swell over the next 20 to 30 years if things don't change.
As a result, those in the healthcare fields that work elderly need to be able to perform physically demanding tasks such helping senior citizens get out of bed, along with getting in and out of wheelchairs or bathtubs.
There are two models of the Muscle Suit, a standard version that can lift up to 30kg and weighs just 5.5kg (12 pounds), as well as a lighter model that offers up to 22kg (48 pounds) in additional lifting strength and weighs just 4.2kg (9 pounds). Innophys says it is now selling the suit on its website to interested businesses, priced at 600,000 yen (about $4,900) or 30,000 yen ($250) per month for rentals.
SOURCE CNet