New iOS app WhiteAlbum sends photos you've taken, but never seen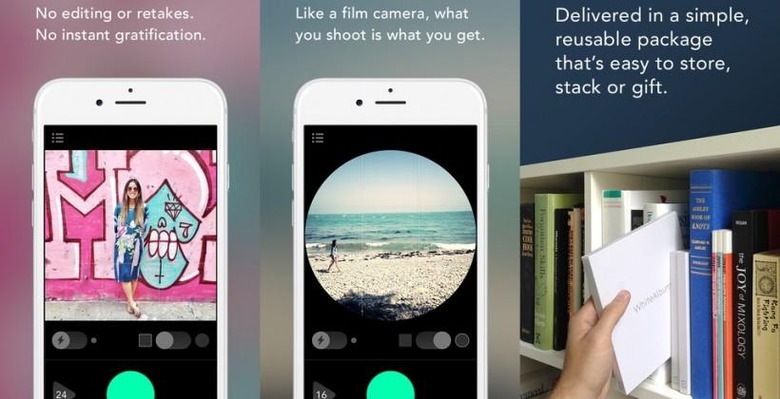 Point, click, swipe, approve, and possibly repeat; that's smartphone photography in a nutshell. You snap a picture, make sure it's good enough, then move along unless you want to re-take it. It's instant gratification, and oddly satisfying. Perhaps equally as satisfying is not knowing if your shot was good or not. We got a glimpse of that with the Polaroid Cube and HTC Re, where you shots weren't immediately viewable. Taking that idea one step further is an app called WhiteAlbum, where you only see your shots once they've been mailed to you.
You snap pictures in a circle or square format, and they're sent to WhiteAlbum directly. You don't get to see them once they're snapped, and they won't make a home in your photo stream on your device.
Once you've taken 24 photos, your 'roll' is complete. The pics are printed on 100-pound smooth satin paper, and sent to you for a $20 charge. Those 24 photos don't need to be taken all at once, either. You ca shoot at your leisure.
There's no clever way around it — WhiteAlbum reverses our fortunes when it comes to digital photography. We've all been spoiled by the instant imaging inspection and ability to edit our shots with filters or other tools. Still, WhiteAlbum hits on something special about photography in its bygone era.
Plenty of services promise to deliver prints (or tattoos) of your photos, but WhiteAlbum brings us back to a time when a discovered roll of film led to a bit of excitement (and possibly anxiety). As we take more and more photos, WhiteAlbum provides another way to make your memories special, and not seeing your shots until they're delivered is a great way to relive your moments all over again.
Source: White Album
Via: Wired