New Image Moments from Digital Foci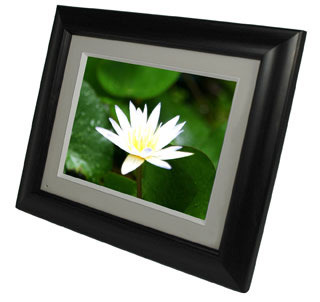 Digital Foci expands 3 new models on Image-Moment, their line of digital photo frame, and has a schedule to display on CES 2008 coming next month. The new addition are 15-inch model with resolution of 1024 x 768 pixels, 8-inch model with resolution of 800 x 600 pixels, and smallest model with a 5.7-inch screen and resolution of 640 x 480 pixels. All 3 models will come with a built-in 200MB of internal memory, USB 2.0 interafce and a memory card reader.
The largest15" inches, Moment 15 features 16.2-million color display and capable to produce a reasonable 700:1 contrast ratio. The frames also feature an interchangeable mat with 3 colors to choose from. Picture orientation can be auto corrected via a unique built-in auto-rotate orientation sensor; video and music playback is also supported with varies photo slideshows option for display mode. Available in March, Digital Foci will be selling these 3 models with the prices of $149, $199, and $399 respectively.
If you get to know me, you probably know I'm neat-picking on display color reproduction and image quality, regardless it's a still or motion pictures. I rather opt to display my works coming out of a calibrated color printer printout than a lousy digital photo frame. The high resolution and size sure got my attention, I would love to get my hand on the 15 for a closer look.
Digital Foci to launch new line of digital photo frames [via dcreviews]