New i-Mate Ultimate 6150 smartphone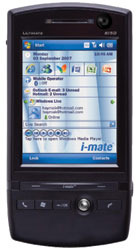 The i-Mate 6150 really is the ultimate in smartphone devices. It runs Windows Mobile 6.0 Pro and has a 520MHz Intel Bulverde CPU inside. It even has an FM radio, and a video out for projectors and other displays for presentations and such.
For connectivity it has a quad-band GSM chip for voice. For data there is Wi-Fi, Bluetooth 2.0, infrared and best of all, HSDPA. There is also a 2.8 inch VGA touch-screen. Hit the jump for a YouTube video of what I assume is an i-Mate representative explaining and showing off the device at some tradeshow in Dubai.
It has 256MB of ROM and 128MB or RAM. There is also a microSD card slot for storage expansion. On top of all that there is a 2MP camera with flash and up to 4x digital zoom. There is also a front facing VGA camera for video conferencing.
i-mate Ultimate 6150 – Video Preview [via newlaunches]