New HP Blackbird Alpha Configuration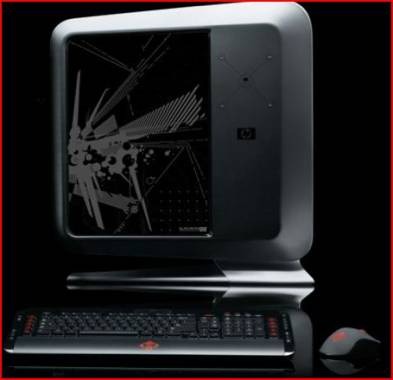 This new configuration integrates the Intel QX9650 into the configuration along with several other very high-end components to make the ultimate gaming rig. I got to see the Blackbird 002 at CES and I almost dropped to my knees and started bowing, it truly is a thing of beauty even when its off, but when its up and running you can add raw power to that list of things it is.
The new configuration, other than the new quad-core 3GHz Extreme Edition processor, also has an 1100 watt power supply. On top of that there is a pair of 1GB ATI Radeon X2900 XT's in Crossfire configuration, 2 gigs of Corsair's finest DDR2 SLI-Ready RAM, and a 160GB 10k RPM HDD (I assume it's a Western Digital Raptor).
It also two DVD burner drives, Creative X-Fi XtremeGamer Fatal1ty Professional sound card (that guy really is a gaming god, he was at CES too), Ageia Physx 100 physics accelerator card, a 15-in-1 card reader, a VooDoo keyboard and mouse from Razor and factory sealed liquid cooling, as usual. All that comes at a low, low price of $5499, I want one, as does, I'm sure, everyone else who reads this.
[via i4u]