New Gateway Tablet packs some power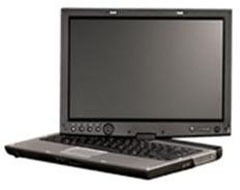 I've never owned a tablet PC, but I've always thought that it would be cool to have one. I wish they would come out with a tablet that actually had a decent dedicated video card. But for those that don't need all of the horsepower from their GPU, here's a new tablet from Gateway that should have plenty of kick elsewhere.
The new 14-inch tablet will be powered by either a 1.8GHz Core 2 Duo T7100 or a 2GHz T7300th 2GB of RAM and a 100GB hard drive. You will also get Intel GMA X3100 graphics, WiFi, and a DVD burner.
The new 295 tablet is expected to go on sale at the end of the month for around $1700. Not a bad price for the power you get.
Gateway 295 series tablet PC [via pclaunches]