New Galaxy A5 and A3 launching January 3 in Europe, US launch unclear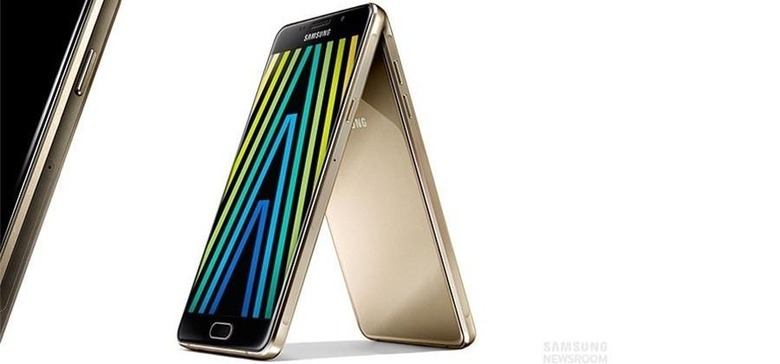 About a week ago, Samsung debuted a refreshed line of Galaxy A smartphones that would launch next year and pack Samsung Pay mobile payment service out of the box. We now have a bit more information about the smartphones, specifically the launch date for Europe according to a Dutch retailer. According to said retailer, the Galaxy A3, A5, and A7 will launch in Europe on January 8.
That will put these too late for Christmas giving, but not too far after the Holidays. The Galaxy A3 will sell for €329 and the A5 for €429. The other new A series smartphone, the A7 is a bit of a mystery for Europe.
The A3 packs a 4.7-inch screen with resolution of 720 x 1080 and the A5 has a 5.2-inch screen with 1080 x 1920 pixels. Both of the smartphones have the same 7.3mm profile and 5MP front camera with 13MP rear.
Inside the A3 is a quad-core 1.5GHz processor with 1.5GB of RAM and 16GB of internal storage. Storage is expandable via memory cards and power comes from a 2300 mAh internal battery. The A5 has an octa-core 1.6GHz processor, 2GB of RAM, 16GB of storage, and gets power from a 2900 mAh battery. Samsung hasn't said of the A series is coming to the US just yet.
SOURCE: PhoneArena