New electric vehicle record set for Pikes Peak hillclimb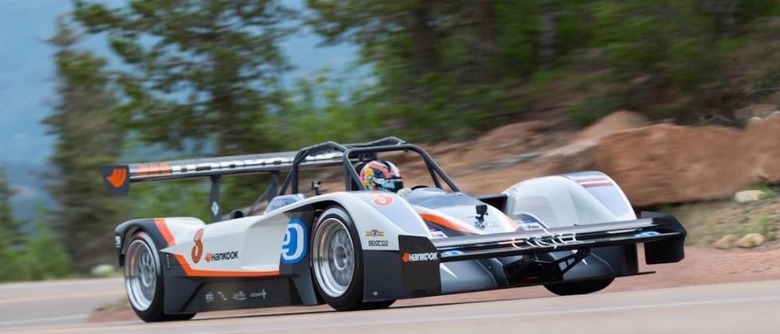 As all-electric race cars become more and more common, they continue to not only take on challenges dominated by traditional gasoline-powered vehicles, but perform almost just as well. Case in point: a new electric vehicle record has been set on the famous Pikes Peak International Hillclimb, the grueling uphill course in Colorado known for rally races. The Drive eO PP03, driven by Rhys Millen, made it to the top of the mountain in 9 minutes, 7.022 seconds.
Made in Latvia, Millen's Drive eO PP03 features three electric motors for each axle, powered by 50kWh lithium-ion battery, resulting in a total of 1,368hp. In setting a new electric vehicle record, Millen beat his closest rival by over 20 seconds. However, EVs still have a way to go before taking the fastest time overall, as Millen was roughly a minute slower than the course record holder.
That title belongs to Sebastian Loeb, a nine-time World Rally Championship winner, who set the record in 2013 with a Peugeot 208 T16, a car that weighs at least 700 pounds less than the PP03.
The race is strictly time-based, as drivers head up the side of Pikes Peak one at a time, completing a 12.4-mile course with over 150 turns. The race has always been a demanding challenge, for both cars and drivers, since it began in 1916, but in 2011 it was made slightly easier. The route was traditionally covered in gravel, but needed to be paved from top to bottom due to environmental concerns.
This change has led to cars usually seen on a racetrack tackling what used to be meant for cars with thick tires and high ground clearance. It has also made Pikes Peak a popular location for testing new electric vehicle technology, as they don't suffer like traditional engines do from the declining oxygen when starting at 9,390 feet above sea level and racing another 4,720 feet.
SOURCE ArsTechnica