New BMW 330e plug-in hybrid can drive 41 miles on electricity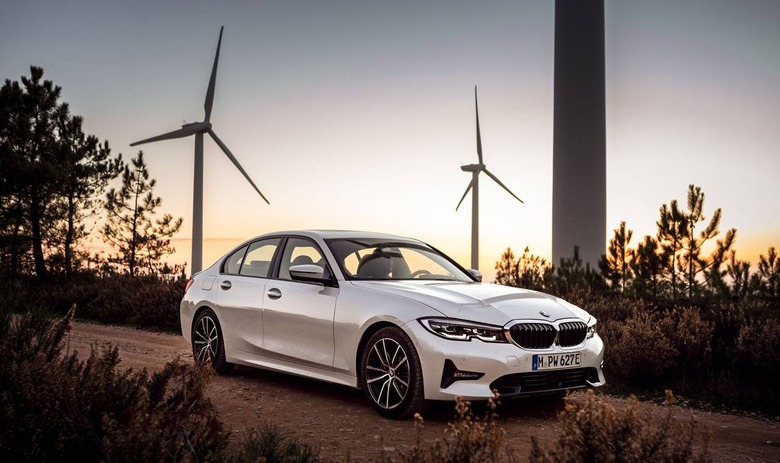 BMW has announced the latest ride added to the 3 Series line and the car is a new plug-in hybrid called the BMW 330e. BMW is celebrating the market launch of the car, noting that it has a 50% higher electric range than the predecessors. The 330e can drive for 41-miles on electricity only.
The BMW 330e also brings a new standard feature that is a first for a BMW vehicle called XtraBoost. That feature raises the system output to a maximum of 292 hp. Along with XtraBoost and the longer electric driving range, the car also gets better fuel economy.
BMW says that the 330e sedan is rated at 1.6 to 1.9 liters per 100 km of driving and emissions are 37 to 43 grams per kilometer. The gas engine in the car is a 2.0-liter BMW TwinPower turbo unit that makes 184 hp on its own. The electric motor produces 113 hp alone. Combined the gas and electric motor makes 310 lb-ft of torque.
The new XtraBoost mode is activated when the 330e sedan is put into Sport mode. That adds in another 40 hp to the 252 hp that the combined gas and electric motor make by default. XtraPower ladles in its additional horsepower for up to ten seconds. The car uses an 8-speed Steptronic transmission that includes engine-braking downshifts.
BMW notes that XtraBoost activates automatically in Sport mode when the driver suddenly puts the foot down. XtraBoost is also available even if the battery is low. The 330e can reach 62 mph in 5.9 seconds and has a 143 mph top speed. The car also supports eDrive zones with geofencing tech that puts the vehicle automatically into zero-emissions modes in cities where such modes are mandated.