Neuros OSD - Hardware Media Player Powered by Linux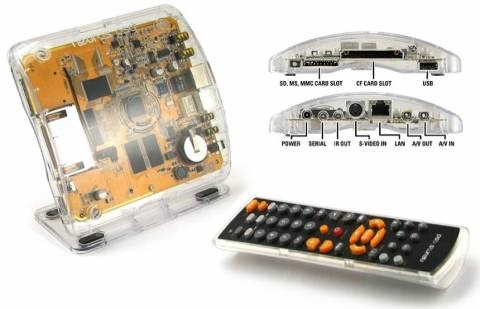 I've been involved in many open source project, I know that there are many great open source application out there. Neuros took advantage of the open source platform by releasing a beta hardware called Neuros OSD, a Linux based media player and recorder hardware that is not quite complete yet. Just like any Open Source project, it is always work in progress and Neuros OSD Beta is only available to the first 200 people who order them. Neuros is willing to pay the hackers cash for their hacks and mods they made on this recorder. This player is powered by Linux kernel version 2.6.Bounty (the rewards) :
Code your own improvements into the Open Source Neuros OSD firmware and get a cash reward.
From Neuros:
"These bounties are a community style thing that is just a modest way to put a little money back into the Neuros community as a token for our appreciation. We hope and expect for people to collaborate, split bounties and credit and share information, etc. The deliverables and rules are sketchy and the interpretation is completely subject to the whim of the selection committee"
YouTube or Google video Browser
Bounty: $1000
Flickr Photo Browser
Bounty: $600
Implement a wireless remote using a WiFi PDA (or PSP) as the remote.
Bounty: $500
TiVo style functionality for radio. Hook up the OSD to a FM/AM or Satellite receiver and do timed recordings or FF/RW and Pause Live Radio. Bounty: $700
Voip on the OSD. Plug a USB phone into the OSD and make calls without touching any of your PCs.
Bounty: $500
Hardware Specifications
• TI DM320 Multimedia SOC with 200 MHz ARM926, 120 MHz C54x DSP processor
• MPEG4 encoding and decoding (as many formats and wrappers as possible)
• D1 (720x480)resolution at 30 fps
• MPEG2 encoding and decoding
• Ethernet
• Linux (2.6 Kernel)
• Dual Core Processor ARM9/TI DSP
• SD/CF/MS card slots
• USB host
• IR Blaster
• IR remote
I/O Ports
• IR receiver
• USB Host
• Multi-card (SD/MS/MS PRO/MS DUO/MMC)
• Compact Flash (including microdrive)
• Dual color LED (green and Red)
• Power connector
• Serial connector (to conrol tuner boxes and connection to PC for developer debugging)
• IR Blaster (for controlling tuner boxes)
• S-Video input
• Ethernet 10/100
• Composite Audio and Video input and output (RCA connector cables included)
So Hackers! Grab one at ThinkGeek and let the hacking begin!
Neuros OSD hardware out in beta, let the hacking begin! [via engadget, thinkgeek]