Netgear WNDR4500 Review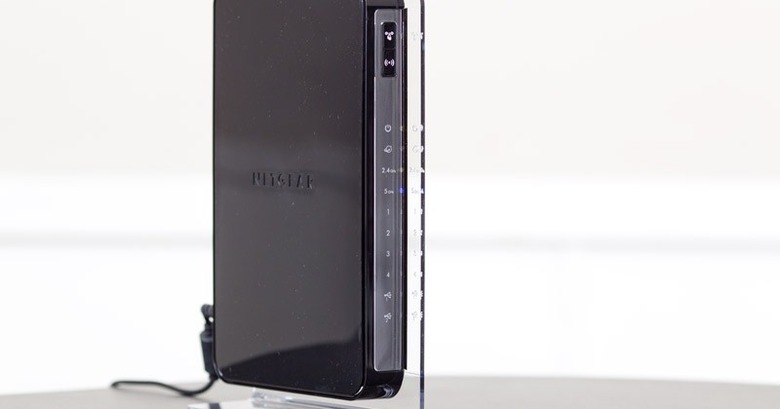 Netgear's latest wireless router, the WNDR4500, promises to be the company's best yet. Packing simultaneous 2.4GHz and 5GHz support, dual USB ports for NAS duty and printer sharing, gigabit ethernet and enough style to put most networking kit to shame, the WNDR4500 also promises to be straightforward to install thanks to Netgear's Genie app. Check out the full SlashGear review after the cut.
Hardware
Slim and tall is Netgear's design language right now, with the WNDR4500 a sleekly designed monolith with an integrated transparent plastic stand. Despite the small footprint, it proved stable even with six chunky Cat6 cables hanging off the four gigabit ethernet ports at the back. They share space with a pair of USB 2.0 ports – Netgear tells us this was a performance consideration, rather than USB 3.0 – a gigabit WAN port, power, recessed reset hole and physical power switch.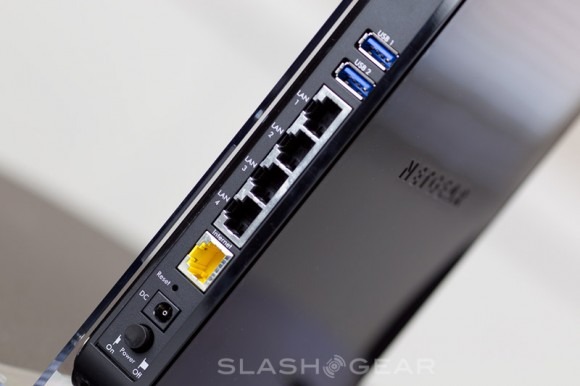 There's no shortage of indicator lights, either. Running down the front panel are LEDs for power, internet, 2.4GHz and 5GHz status, along with individual lights for each of the ethernet ports and each USB port. Up top are buttons for WPS and wireless.
The WNDR4500 has a small fan to keep things cool, but it's a very quiet example. Nonetheless, it does the job well: operating temperature is cool to the touch, and you can barely feel a small amount of warm air coming out of the vents on the top and bottom of the router. The chunky power brick has the same footprint as a smartphone, though is obviously thicker.
Software
Initial setup is straightforward. Netgear prints a default SSID and wireless encryption key on the WNDR4500's box, and there's a simple wizard that guides you through the whole process. Netgear offers two different ways of accessing the router: those familiar with networking tech can go the regular way, and log into the WNDR4500's browser-based interface, while those who'd prefer a little hand-holding can run Netgear Genie.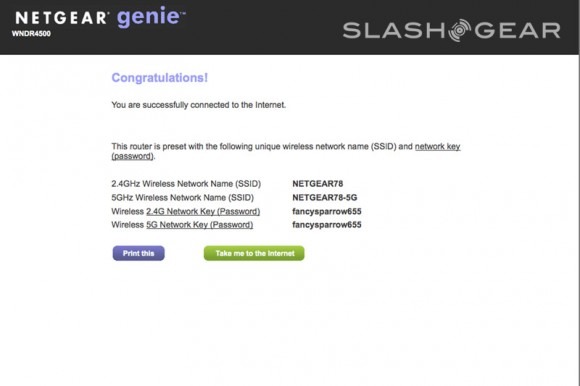 Genie is a locally-running app that shows the current status of the network in an easily-understood map layout, as well as offering user-friendly controls to restore a lost connection and do other basic tasks. In Q4, Netgear tells us, there'll be iOS and Android versions of the app, while in the pipeline is more advanced functionality such as indicators of actual performance between the router and each device connected to it. At that point we can see more proficient users actually choosing to install Genie, though at present it's definitely targeted at the novice home audience.
The two USB 2.0 ports can be used for either printer sharing or hard-drive sharing. Netgear has implemented USBoIP (USB over IP) rather than install a default bundle of printer drivers on the WNDR4500 itself: that means any printer plugged into the router should show up on your computer as if it was locally connected. The upside is that you're not reliant on generic drivers, and can instead use those that actually came with your printer.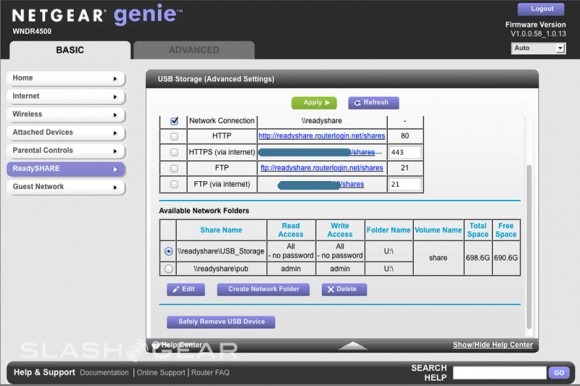 NAS functionality is a little more complex. Each port has enough bus power to drive a 2.5-inch external HDD, and once connected the Network/Device Name shows up as a shared network drive on computers using the router. Alternatively, there's DLNA support, so compatible consoles like the PS3 see the drives as a source of streaming media.
While the WNDR4500 handled FAT32 and NTFS drives with no problems, HFS and exFAT proved beyond its abilities: the HDDs simply would not mount. You also don't get the same sort of granular access control as you would on a dedicated NAS. For instance, if you want to share content via DLNA, the read/write access control must be left turned off; that means DLNA content is then not secured for FTP/HTTP remote access.
Similarly, while you can create folders and assign read/write access to them, we were unable to find a way to selectively assign login privileges to individual shares. Instead, we were left using the same admin login, rather than being able to create a set of new users with partial privileges.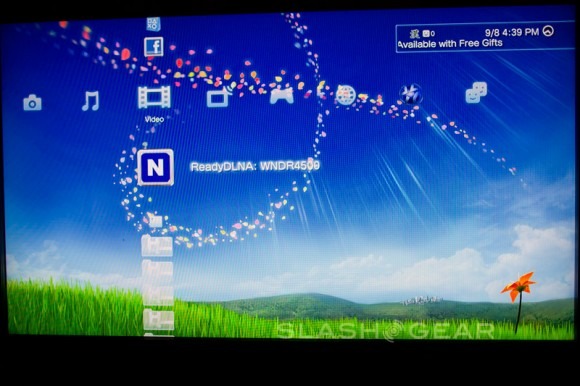 Finally, there are parental controls. These use a continuously updated list of banned sites, with various levels of filtering depending on what sort of content you want to block. There's no per-device filtration – you can't, say, block adult content on your kid's iPad, but allow all content through to your own – with a user ID-based login system instead to bypass the restrictions.
Performance
Netgear is boasting greater ranges and faster speeds from the WNDR4500, with up to 450 Mbps rates supported. The company also says its done some clever work with its 3x3 antenna array so as to provide more coverage in the 5GHz band.
In our tests with 2.4GHz connections, from 5 feet away from the router and no blocks in-between we were able to get 59.59 Mbps average TCP throughput. Moving to 20 feet away, with one wall in-between, that dipped to 55.23 Mbps. At 35 feet away, with two walls in-between, it fell to 45.74 Mbps.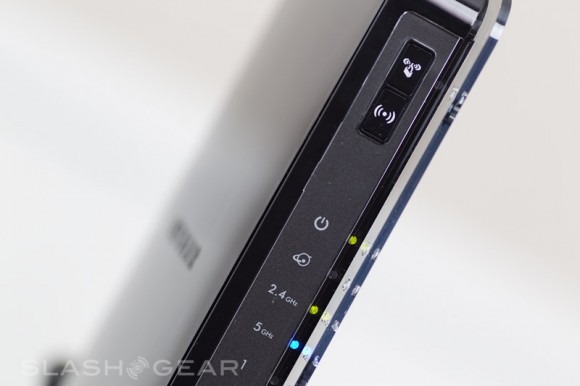 So far so good, though wired performance proved more troublesome than wireless. During our testing, wired devices continuously lost their connection; sometimes they would automatically reconnect, while other times they demanded that we unplug the device or, worse still, reset the router itself. This is presumably something Netgear can address with firmware updates, but as it stands it can be a frustrating experience.
Wrap-Up
There's plenty to like about the Netgear WNDR4500. It's compact and neatly designed, and the setup process is tremendously straightforward. Right now, Netgear's Genie app is of more interest to novice users, but if the company can deliver on the upgrades it has told us about, it may prove its worth to the more technically-minded.
Wireless performance proved stable and connection speeds good, and – for basic file sharing and streaming, at least – the USB ports are useful. Those with more ambitious storage requirements should still look to a dedicated NAS, however, which will deliver more control over who can access what, and from where. Wired performance, unfortunately, was less successful; it could have been our test setup – a mixture of Windows and OS X machines – but the frequent dropped connections left us less than impressed with the WNDR4500.
That's a shame, since as an all-round package there's a lot of appeal. $179.99 puts it at the premium end for home networking, but you're getting a broad range of functionality for your money. In the end, though, it's the great wireless performance that most home users will appreciate, and we can't fault the Netgear WNDR4500 there.