NETGEAR launches N750 Dual Band router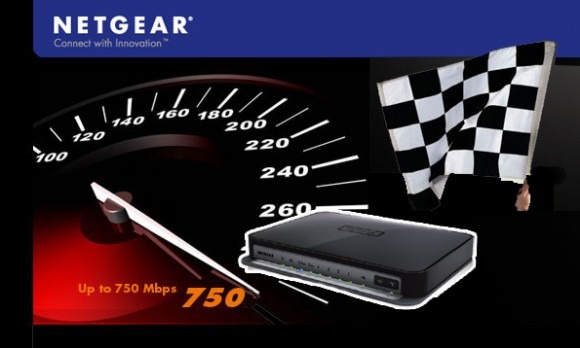 NETGEAR has launched a new Router which offers dual band wireless transmission at up to 750 megabits per second. Named the NETGEAR N750 Wireless Dual Band Gigabit Router, the router transmits data simultaneously over both wireless N bands with up to 450mbps in the 5Ghz band and 300mbps in the more crowded 2.4 Ghz band. In addition, the N750 offers a wide range of parental controls and even a broadband usage meter for those concerned with data caps. And with DLNA media server support, the router can handle HD video, music, and photos and stream them to any DLNA enabled television or game console on the network.
The parental controls enable for control of all devices on a network including Windows PCs, Macs, smartphones and tablets. Parents can be secure in the knowledge that their kids are safely surfing the internet and prevented from visiting suspect sites. The Broadband usage meter can be set to automatically notify when data consumption is about to surpass any monthly limits set by the service provider, thereby saving on expensive data overage fees. And guests can access the Internet and the home network without access to other computers, storage drives or other devices on the home network.
But the hallmark feature is the N750 's transmission of wireless signals over a lesser used 5Ghz band, which means less congestion and faster data transfer rates. Users can watch HD movies, play live networked gaming, and have video chats with multiple users while the router handles traffic seamlessly at 450 mbps, while running more traffic on the lower 2.4 Ghz traffic at 300 mbps. The N750 is available now for around $179.99 msrp.
Press Release

NETGEAR Tops Off Product Portfolio with New Flagship Router

The NETGEAR N750 Wireless Dual Band Gigabit Router speeds through intense tasks such as HD video streaming, multiplayer gaming and large file transfers

SAN JOSE, Calif. – April XX, 2011 — NETGEAR®, Inc. (NASDAQGM: NTGR),a global networking company that delivers innovative products to consumers, businesses and service providers, today announced worldwide availability of the N750 Wireless Dual Band Gigabit Router (WNDR4000), the newest top of the line router from the industry's market leader. The N750 powers through intense wireless tasks such as streaming HD video, multiplayer gaming and large file transfers thanks to a an aggregate combined data rate of up to 750 megabits per second (Mbps) while operating simultaneously in both wireless N bands: up to 450 Mbps in the 5 GHz band and up to 300 Mbps in the 2.4 GHz band.

But the N750 isn't just about speed – the router offers a full range of premium features including flexible parental controls and a broadband usage meter, as well as DLNA Media Server support for streaming video, music and photos from any storage device plugged into its USB port to DLNA-enabled devices throughout the home such as some newer televisions and game consoles.

The N750 takes the wireless N standard to new levels with performance of up to 450 Mbps in the 5 GHz band, where there is less interference than the 2.4 GHz band. This higher frequency band can provide smoother, more consistent streaming to newer laptops, video game consoles and other dual-band wireless N devices for a superior user experience. The N750 also operates at up to 300 Mbps in the 2.4 GHz band, supporting both the older 802.11g standard and the newer 802.11n standard. This provides maximum range and more capacity when multiple devices are using a mix of the 2.4 and 5 GHz bands on a single home wireless network. Overcrowding and delays are minimized during data-intensive activities such as HD video streaming and multiplayer online gaming.

The N750 is also an intelligent home gateway that helps consumers get the most from their network and connected devices.

NETGEAR Live Parental Controls, for example, provide a centralized, flexible and reliable parental control solution for all devices on the network, including Windows PCs, Macs, smartphones and tablets, giving children and teenagers a safer environment for online activities – with no subscription required!

The broadband usage meter can be set to automatically notify consumers when data consumption is reaching monthly limits set by their service provider, avoiding costly overage fees for those with metered service plans.

Among the additional premium features of the N750 are:

* Guest network access, allowing visitors to go online without having to be given the home network password and without gaining access to computers, printers, storage drives and other devices on the home network.

* NETGEAR ReadyShare™ technology, for connecting a standard USB hard drive to the router to share storage and a media library across the home network.

* DLNA Media Server, for streaming media to DLNA HDTVs, Blu-ray™ players and game consoles.

* Four high-speed gigabit Ethernet ports for ultra-fast wired connections.

* IPv6 ready, for future-proof compatibility with the emerging IPv6 standard for Internet addresses.

"Home networks are no longer limited to low-bandwidth tasks such as reading email or looking at static web pages. Instead, today's home networks are gateways to movies, television, music, games, video chat and much more," said Som Pal Choudhury, NETGEAR director of product marketing. "No wireless router on the market today is faster or better prepared to deliver these next-generation online experiences to everyone in the family than the N750."

Pricing and Availability

The NETGEAR N750 Wireless Dual Band Gigabit Router (WNDR4000) is now available worldwide from major retailers – in stores and online – at $179.99 in the United States.

More information

To learn more about the NETGEAR N750 Wireless Dual Band Gigabit Router, please visit http://www.netgear.com/MaxWiFi

About NETGEAR, Inc.

NETGEAR (NASDAQGM: NTGR) is a global networking company that delivers innovative products to consumers, businesses and service providers. For consumers, the company makes high performance, dependable and easy to use home networking, storage and digital media products to connect people with the Internet and their content and devices. For businesses, NETGEAR provides networking, storage and security solutions without the cost and complexity of Big IT. The company also supplies top service providers with retail proven, whole home solutions for their customers. NETGEAR products are built on a variety of proven technologies such as wireless, Ethernet and powerline, with a focus on reliability and ease-of-use. NETGEAR products are sold in over 28,000 retail locations around the globe, and through more than 37,000 value-added resellers. The company's headquarters are in San Jose, Calif., with additional offices in 25 countries. NETGEAR is an ENERGY STAR® partner. More information is available at http://www.NETGEAR.com or by calling (408) 907-8000. Connect with NETGEAR at http://twitter.com/NETGEAR and http://www.facebook.com/NETGEAR.

©2011 NETGEAR, Inc. NETGEAR, the NETGEAR logo, and ReadyShare are trademarks or registered trademarks of NETGEAR, Inc. in the United States and/or other countries. Other brand and product names are trademarks or registered trademarks of their respective holders. Information is subject to change without notice. All rights reserved.

Note: Maximum wireless signal rate derived from IEEE Standard 802.11 specifications. Actual data throughput will vary from maximum signal rates stipulated. Network conditions and environmental factors, including volume of network traffic, building materials and construction, and network overhead, lower actual data throughput rate.

Safe Harbor Statement under the Private Securities Litigation Reform Act of 1995 for NETGEAR, Inc.:

This press release contains forward-looking statements within the meaning of the U.S. Private Securities Litigation Reform Act of 1995. Specifically, statements concerning NETGEAR's business and the expected performance characteristics, specifications, reliability, market acceptance, market growth, specific uses, user feedback and market position of NETGEAR's products and technology are forward-looking statements within the meaning of the Safe Harbor. These statements are based on management's current expectations and are subject to certain risks and uncertainties, including, without limitation, the following: the actual price, performance and ease of use of NETGEAR's products may not meet the price, performance and ease of use requirements of customers; product performance may be adversely affected by real world operating conditions; failure of products may under certain circumstances cause permanent loss of end user data; new viruses or Internet threats may develop that challenge the effectiveness of security features in NETGEAR's products; the ability of NETGEAR to market and sell its products and technology; the impact and pricing of competing products; and the introduction of alternative technological solutions. Further information on potential risk factors that could affect NETGEAR and its business are detailed in the Company's periodic filings with the Securities and Exchange Commission, including, but not limited to, those risks and uncertainties listed in the section entitled "Part II – Item 1A. Risk Factors," pages 11 through 29, in the Company's annual report on Form 10-K for the fiscal year ended December 31, 2010, filed with the Securities and Exchange Commission on February 28, 2011. NETGEAR undertakes no obligation to release publicly any revisions to any forward-looking statements contained herein to reflect events or circumstances after the date hereof or to reflect the occurrence of unanticipated events.

# # #