Netgear Digital Entertainer Elite with 500GB and 1080P coming soon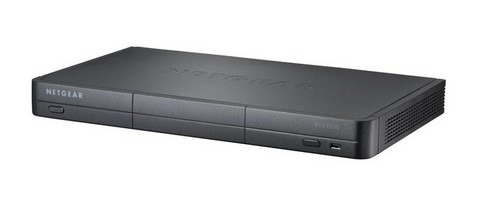 Facing the increasingly crowded multimedia streaming players market, Netgear is set to launch its elite lineup of a digital media player with price and features that may fall short of competitions. The new EVA9150 Digital Entertainer Elite streaming media player, though packs with largest storage for its kind (500GB), supports free videos and photos from Youtube and Flicker, and with 1080P full HD output on contents from your PC, is planning to launch at a suggested retail of $400 without major content providers on-boarded.
Don't get me wrong; a 500GB content storage with user replaceable drives, Full HD feature on top of the wireless streaming are fairly ahead of the likes of Roku Netflix player, Apple TV or Xbox 360; but the cost is rather steep without the core content providers. A niche product for enthusiasts preferably better hardware and resolution supports with owned supplements of video content.
The new Digital Entertainer is set to sail in the first quarter of 2009. The hefty price tag of $400 will prep you 500GB of storage space.