Netgear certifies RadyNAS for VMware virtualization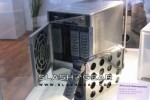 We have talked about the Netgear ReadyNAS unified network storage solution before. In fact, we spied the device back at IFA last month and it looked ready for business use with its hot swap bays and geeky good looks. Netgear has announced the ReadyNAS is now certified for an important business function.Netgear has certified the ReadyNAS to work with VMware virtualization via NFS. The ReadyNAS is fully compliant with VMware ESX 4.0 virtualization solution. That means businesses can get a fully integrated virtualization solution for as low as $1000.
The entire line of Netgear ReadyNAS solutions from the desktop ReadyNAS Pro and ReadyNAS NVX to the rack-mount ReadyNAS 2100 and 3200 devices are now certified of the network file system protocol. Virtualization is an important feature in many businesses and the certification should be a good thing.