Netflix 'Murder Mystery' trailer gives first look at new Adam Sandler comedy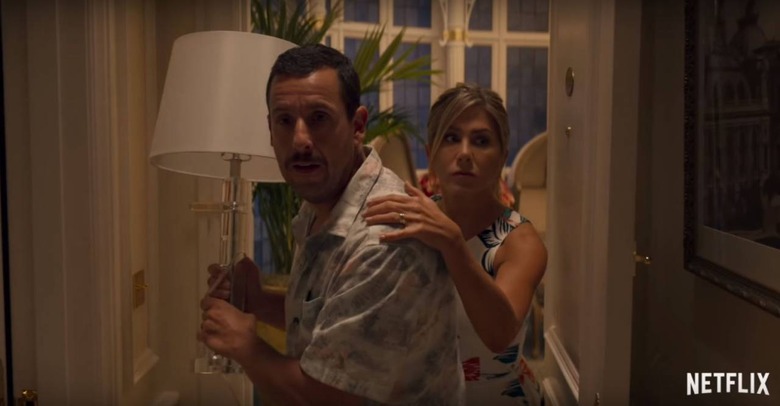 Netflix has released the first trailer for an upcoming movie called Murder Mystery starring Adam Sandler and Jennifer Aniston. As the name suggests, this movie revolves around a murder mystery, which takes place on the yacht of an elderly billionaire. Netflix describes its new original as a dark comedy that is 'irreverent, goofy, [and] exciting.'
Netflix is home to multiple original comedies from Adam Sandler; it has also previously tapped Jennifer Aniston for its projects. The duo have teamed up for Murder Mystery, a comedy in which husband and wife find themselves welcomed on a Super Yacht cruise during an 'intimate family gathering' of an elderly billionaire.
That billionaire, Malcolm Quince, is soon murdered, as we see in the trailer, provoking a massive investigation. Sandler's and Aniston's characters are pegged for the murder, resulting in a comedic, modern version of the classic 'whodunit' narrative.
As with all Netflix originals, the new Murder Mystery movie, which arrives on June 14, will be available in all regions where Netflix subscriptions are available. This joins a growing number of movies featuring high-profile celebrities from Netflix, which has prioritized original movies, TV shows, and documentaries.
Netflix frequently releases new content, but in the case of television shows, also often ends them. In its most recent termination, Netflix decided to cancel hit series Santa Clarita Diet for reasons that remain unclear. The company has also previously cancelled hits like Bloodline, Marvel's Daredevil, and more.