Netflix Collections test on iOS presents human-curated content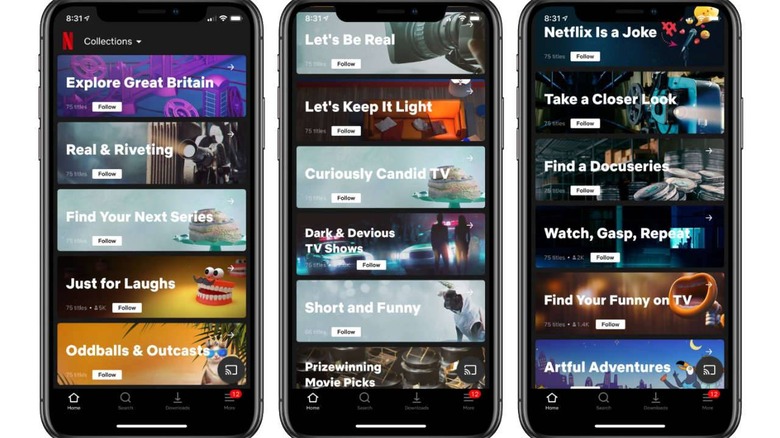 Netflix is testing a new feature on iOS called 'Collections' that presents users with a batch of content curated by humans, not machines. The curated Collections cover both TV shows and movies and are grouped together based on certain commonalities, such as the tone of the content, storylines, genre, and more. Collections join Netflix's existing personalized recommendations.
In its present form, Netflix shows users content grouped by genre, some of them very specific, such as 'gory thrillers' rather than simply 'horror.' These narrow classifications help users zero in on the specific movies and TV shows they're interested in, though the same system has been criticized as making Netflix's content selection feel smaller than it is.
Here's a look at the smooth transitions in the new Netflix Collections 👇 pic.twitter.com/5xPYRheCqn

— Jeff Higgins (@ItsJeffHiggins) August 23, 2019
Collections are different. Rather than being machine recommendations based on the user's viewing habits, the new curated batches are collections of content assembled by the Netflix creative team, each presented with titles like, 'Find a Docuseries,' 'Curiously Candid TV,' 'Explore Great Britain,' 'Just for Laughs,' and more.
In this way, Netflix users can break free from their old watching patterns and see entirely new batches of content that may interest them. The Collections have the potential for getting viewers interested in new content, specifically Netflix's growing body of original content, but not everyone can access it at this time.
According to TechCrunch, the Collections feature is a just a test at this time, one limited to iOS devices. Screenshots of the feature were shared on Twitter recently by Jeff Higgins, who also published a video demonstrating the content. As with any test, it's possible Netflix will decide not to roll it out as a regular feature.