NERF Switch Shot EX-3 shoots darts and plays Wii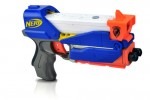 We are big fans of NERF products around here and we are big fans of the Nintendo Wii too. It would make since that we would get all excited at the thought of a new NERF blaster from PDP that shoots the darts we all know and love and can be used as a Wii blaster too.
The new NERF gun is called the Switch Shot EX-3 and offers three ways to play. The blaster has a place to put your Wii Remote for playing any Wii game that shoots. The blaster also has a Red Reveal accessory that is used to play the NERF "N-Strike" Elite Wii video game from EA.
Video games aside the gun will also shoots Sonic Micro Darts for an easy way to get the wife/kids/dog/cat/whatever to move out of your way while you are playing video games. The Switch Shot EX-3 is an officially licensed Nintendo product and will sell for $19.99.