Neptune Pine, our hands-on with the biggest smartwatch we've seen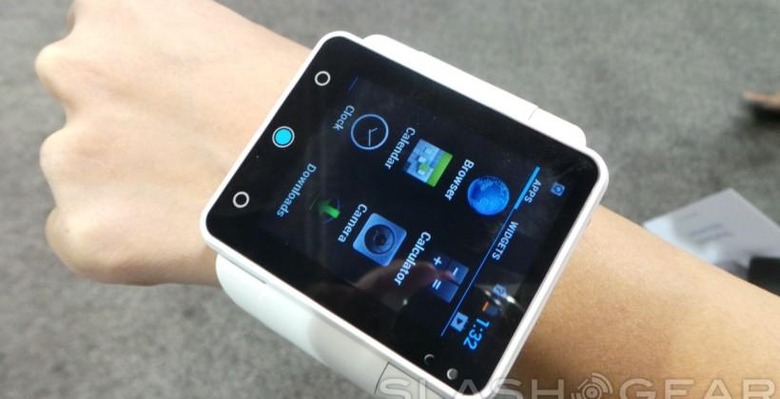 The Neptue Pine promises to bring more to your smartwatch experience than you might be ready for. The device, which comes with a readily detachable body, can do just about everything your smartphone can. Though smaller than your smartphone, it's also much larger than any other smartwatch we've seen. That's where it becomes a polarizing choice.
In our time with the Pine, we found it to be as expected. It was fairly snappy, which we expected from a device powered by a dual-core 1.2GHz Qualcomm Snapdragon S4 processor.. The screen, though smaller than a phone, was easy to read and scroll through. Typing was surprisingly easy, and came in a bit smaller than an iPhone. For one handed pecking, we had no issue, a refreshing change when compared to others who try to offer the same.
The dual camera ensemble has some interesting use-case scenarios, but that got us think at how often we use our smartphones for video chatting. The answer, sadly, was not much, meaning the front facing cam is left to selfies.. We did like that should you want a better photo, you can simply snap the body from the band quickly and use the rear camera to snap a pic. The rear facing cam is 5mp, and that's more than adequate for daily quick shots.
With the Play Store baked in, we're not sure which apps we'd actually prefer to use with the Pine. Games are almost a moot point, but messaging is very doable. We don't think reading documents on the Pine is something we'd like to do regularly, but it's not obtrusive in a pinch. Calls? Well, at least we could rest our head in our hand, but a bluetooth headset is definitely more adept at keeping us in the know, on-the-go.
The size, though — it's just plain polarizing. It could become tiresome, having such a big device strapped to your wrist. If you want an all-in-one, the Neptune Pine is the Cadillac of smartwatches, and sized accordingly. If you're looking for something that can notify you quickly and easily, the Neptune Pine will probably overwhelm you.