Neogeo X Gold to launch globally for $199.99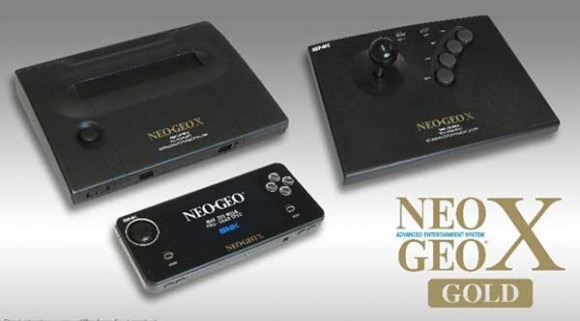 If you're retro gamer that has fond memories of the Neogeo console from back in the day, you'll love this announcement. Tommo, Inc. and SNK Playmore have announced that the Neogeo X Gold video game system will be available globally starting this December. The launch is part of the celebration for the 20th anniversary of the original Neogeo AES game console.
The Neogeo X Gold game console will be available for $199.99 when it launches on December 6. The console kit includes the Neogeo X Station, and the X Handheld with 20 preloaded Neogeo classic titles. The bundle also includes the Neogeo X Joystick. The handheld device has a 4.3-inch LCD display and a game card slot to add more titles. It also has internal stereo speakers and a 3.5 mm headphone jack. The handheld device supports both the joystick and the X Station.
The X Station charges the handheld portable console and when connected with the X Joystick, the portable device and the station allows gamers to play on a big screen TV via HDMI or AV outputs for arcade gaming in the home. The pre-installed games cover many different genres.
The games include 3 COUNT BOUT, LEAGUE BOWLING, ART OF FIGHTING II, MAGICIAN LORD, ALPHA MISSION II, METAL SLUG, BASEBALL STARS II, MUTATION NATION, CYBER LIP, NAM 1975, FATAL FURY, PUZZLED, FATAL FURY SPECIAL, REAL BOUT – FATAL FURY SPECIAL, THE KING OF FIGHTERS '95, SAMURAI SHODOWN II, KING OF THE MONSTERS, SUPER SIDEKICKS, LAST RESORT, and WORLD HEROES PERFECT. The consul pack will be sold exclusively by Tommo in the US.