Need for Speed for PC trailer teases March 15 release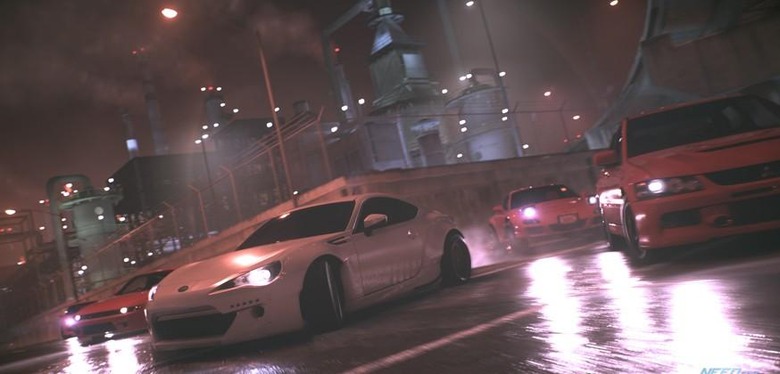 As promised, Need for Speed is arriving this spring — March 15, to be precise — a launch that had been delayed in September 2015. Though having to wait longer is always disappointing, the postponement was for a good reason: the extra time was needed to give PC gamers unlocked frame rates, something fans had been heavily requesting. It'll all be worth it in the end, then, and as that end draws near, EA has revealed the PC version in a new trailer.
The trailer is "representative of gameplay," says EA; be sure to boost it up to 1080p60 if it doesn't start that way. As noted at the end of the trailer, gamers can pre-order the deluxe edition now and will get the BMW M3 E46 "as a tricked out starter car." That deluxe edition is $69.99 USD, while the regular edition is $59.99 USD.
The game will arrive on March 15 for North America based gamers, and will then launch on March 17 for everyone located elsewhere. For Origin Access gamers, the availability date will be March 10 instead.
In a statement on Wednesday, the Need for Speed team said, "The extra development time has allowed us to create the definitive NFS PC experience." They also confirmed that Manual Transmission will be supported by the PC game at launch. There'll also be steering wheel support on PC for some wheels from Fanatec, Logitech, and Thrustmaster — another heavily requested feature, says EA. It appears that wheel support will also be available upon launch.
Finally, Need for Speed on PC will include the Icons and Legends updates that have been released for other platforms, and any other "improvements and tweaks" that have been made since launching on consoles. A bit after launch, the Showcase update will be released, as well.
So, while the wait remains, PC gamers are getting exactly what they asked for (or at least that's how it looks at this point). The delay is a welcomed decision, and one that helps avoid fiascos like the botched Batman: Arkham Knight release and the drama surrounding The Division's PC rendition.
Of course, if you have a PlayStation 4 or an Xbox One, you can get the title now, as it released back in November 2015 as originally scheduled. As well, console owners will also be seeing the Manual Transmission feature in future updates, says EA, though it doesn't go into details about when those may happen.
SOURCE: