Nectar Bluetooth accessories now available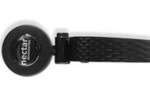 I am not a big fan of Bluetooth headsets outside of the car. I think people who wear their Bluetooth headset everywhere and talk while they are in the mall or at a restaurant, using them should be pummeled in the gonads. I can understand needing to keep your eyes on the road while driving though and Nectar has a line of accessories that are designed to keep your Bluetooth headset nearby.
Nectar is offering its new BlueClip Retractable and BlueClip Necklace headset holders. Both the devices have a loop that securely holds your Bluetooth headset keeping it nearby so you don't have to take your eyes off the road to put the headset on.
The retractable clip is like those things the maintenance man at school uses for that massive keying he carries. The necklace is self-explanatory. Both devices come in different colors and range in price from $14.99 up to $159.99 for a necklace with crystals on it.